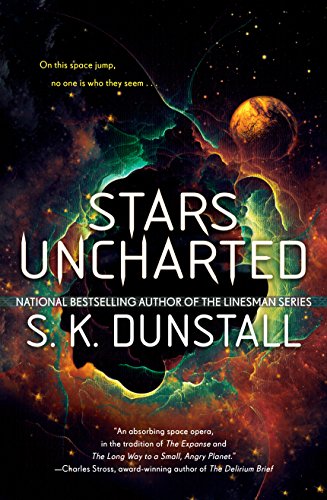 Stars Uncharted
by S.K. Dunstall
★★★★★
Can they live long enough to discover what they know?
Wow!  The sister duo that is S.K. Dunstall spins a frenetically-paced tale that leaves us simply breathless. They reach us with their complex characters and they slam us into their world, because deep down, we know this world could be ours if we could just touch tomorrow. Josune Arriola and Nika Rik Terri are vastly different women, one an engineer, one an artist of sorts, a body-modder, who are both on the run from their past. Josune is an engineer sent by her captain to spy on Captain Hammond Roystan, and she finds The Road to the Goberlings and its captain more freeing than her life aboard the Hassim. As she waits for her ship to return and retrieve her, she wonders what it would be like to live aboard The Road, but that option is destroyed when the Hassim hurtles into space beside them, laden with corpses and enemies.
Nika is a renowned body modder, a sculptor of human flesh, setting trends in fashion and body mods even as she studies past masters and engineers a machine that does infinitely more than modify genetic potential. While it's her abusive ex-boyfriend that pulled her into the criminal underworld, it's an assassin's attention that spurs her flight to freedom. Along the way, she unintentionally pulls a young modder, Snow, into her troubles. The only safety is to run as far and as fast as possible and luck leads her to The Road.
Josune, Nika, and Roystan are the linchpins in a mystery that spans almost a century, a treasure that's been lost to history, and the murderous plots of a corporation's vicious campaign of  destruction and domination.  Stars Uncharted is a classic science fiction tale with the science spanning space travel and body modification scientific and medical nuances wound around key parts of the story. Each scientific element makes the story feel more real and the vital part body modification and its attendant machinery play at crucial moments clever and satisfyingly twisty.
The character-building is complex with multi-layered characters, the world-building immersive and believable, and the story, while part of a series, stands alone quite comfortably, with important story threads tied up, yet leaving anticipation for the next leg of the journey.
Stars Uncharted was just way too much fun. All in all, another fantastic book from S.K. Dunstall. Can't wait for the next book! I expect this series to be even better than Dunstall's Linesman series, which was absolutely terrific. Highly recommended for anyone who loves great storytelling or tales of lost treasure and especially those who love science fiction and space opera.

Copyright secured by Digiprove
Acknowledgements: All book cover artwork and all text g more...
All Rights Reserved