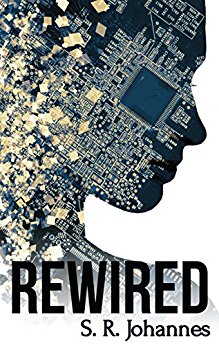 Rewired
by S.R. Johannes
★★★★★
Ada's the Dark Angel, hacktivist, and life just went offline. Can she get wired and hack the real killers?
Rewired is a fast-paced YA thriller that will appeal to a large audience. There's enough hacking, espionage, mystery, and suspense to keep teens engaged. Many will identify busy parents, being over-connected to social media, the internet, gaming, etc., and the desire to make a difference, to be someone special, to win.
Ada is a senator's daughter; she is also the Dark Angel, a young member of the aptly named Orwellian hacktivist group, caught in a web of encroaching lies and hacks. She's also addicted to hacking and avoiding real life connections since her best friend and fellow hacker, Simone, died. Caught in a hack, Ada's sent to ReBoot to be rehabilitated with other hacker and internet addicted teens, Ada can't stay away from the connection for long. Deprived of all her high-tech and sent to the program that Simone attended just before her suicide, Ada soon finds hidden computers, a hacking lab, and staff members who are hiding more than computers in the creepy buildings. Why have so many teens died within a few days of leaving ReBoot?
Shelli R. Johannes touches enough buttons that young people be thrilled with the ride, identify with the various teens at ReBoot, and perhaps assess whether their own internet and social media usage is excessive. Johannes makes clear that the online connection is the illusion of relationships and that it's real life friends that save us from falling.
Fun and thoughtful read that I would recommend for teens.
I received this book as an Advanced Reader Copy (ARC) from NetGalley. My opinions are my own.
Book description
16-year-old Ada Lovelace is never more alive and sure of herself than when she's hacking into a "secure" network as her alter ego, the Dark Angel. In the real world, Ada is broken, reeling from her best friend Simone's recent suicide. But online, the reclusive daughter of Senator Lovelace (champion of the new Technology Privacy Bill) is a daring white hat hacker and the only female member of the Orwellians, an elite group responsible for a string of high-profile hacks against major corporations, with a mission to protect the little guy.
Ada is swiftly proving she's a force to be reckoned with, when a fellow Orwellian betrays her to the FBI. To protect her father's career, Ada is sent to ReBoot, a technology rehab facility for teens…the same rehab Simone attended right before killing herself.
​
It's bad enough that the ReBoot facility is creepy in an Overlook-Hotel-meets-Winchester-Mansion way, but when Ada realizes Simone's suicide is just one in an increasingly suspicious string of "accidental" deaths and "suicides" occurring just after kids leave ReBoot, Ada knows she can't leave without figuring out what really happened to her best friend. The massive cyber conspiracy she uncovers will threaten everything she cares about–her dad's career, her new relationship with a wry, handsome, reformed hacker, Fisher, who gets under her skin, and most of all–the Dark Angel.
With a deliciously twisty plot, the topical bite of Cory Doctorow's LITTLE BROTHER, ReWIRED delves into technology addiction, internet privacy, and corporate/government collection of data.
ReWIRED is about the daily choices we all make about who we want to be, how much of ourselves we choose to share with others, and the terrifying risks and exhilarating rewards of being ourselves, online and off.

Copyright secured by Digiprove
Acknowledgements: All book cover artwork and all text g more...
All Rights Reserved