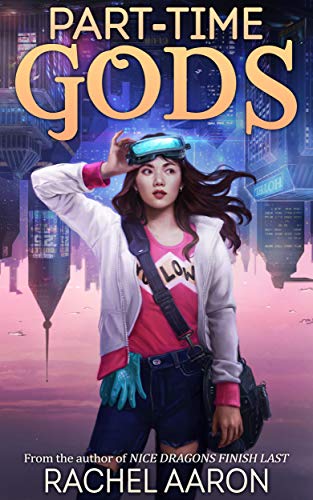 Part-Time Gods
by Rachel Aaron
★★★★★
Got daddy issues? Got gods?
Opal Yong-ae is a human with a dragon for a father. Unfortunately, her dad, Yong, the Dragon of Korea, is just as determined and stubborn as she is. Opal used to adore Yong, but she doesn't want to be a cloistered, over-protected treasure anymore; she wants freedom. Yong may have let her stay in the DFZ as a cleaner, but he's cursed her with such bad luck that her usual good fortune has turned into a massive debt collection. Can an unstoppable daughter topple an immovable dragon?
In this second DFZ book, Opal is grasping at straws and her partner, Nick, in her last bid for freedom. What's a girl to do when her dad's an overbearing dragon and her mom is determined to redecorate her apartment and subvert her wardrobe?
Opal's about to meet someone who might be able to help her take on a dragon: a god – the Spirit of the DFZ. The DFZ is a like-minded Mortal Spirit inclined to like go-getters with a strong moral compass and a hunger for freedom. With her trusty partner, a body-morphing god, a dead Shaman, and a russet potato, Opal will show her dad just what she's made of. To quote Opal's quote of a quote: "Never give up, never surrender!" But she may find the price for freedom is more than she bargained on paying.
As usual, Rachel Aaron's stories are mesmerizing for their intricate plotting, immersive world-building, and addictive storytelling. Top that with deep characterizations and nuanced relationships between a father and daughter, mother and daughter, and a city and her people that move the story from excellent to incredible, and you've got a sublime read you won't want to put down until you've finished the last word on the last page. Well, you won't want to put it down even then, but you're going to have to wait until the next book to continue the conflict. Or do like my addicted self: re-read Part-Time Gods immediately and then start reading back through all Rachel Aaron's other books just to bask in her stories while wishing you could read each one again for the first time. (You think I'm exaggerating, don't you? Just wait until you get there!)
Highly recommended for fantasy fanatics, Rachel Aaron followers, and folks who enjoy great storytelling. Actually, make that highly recommended for anyone who can read.
I received this book as an Advanced Reader Copy (ARC) from the author. My opinions are my own.
Book description
Life in the magical mess of the Detroit Free Zone is never easy. When you're laboring under the curse of a certain prideful, overbearing dragon, it can be down right impossible.
My name is Opal Yong-ae, and I'm a Cleaner. At least, I used to be. Thanks to the supernatural bad luck that turns everything I do against me, these days I'm more of a walking disaster. Getting rid of this curse is the only way to get my life back. Unfortunately, dragon magic is every bit as sneaky and deadly the monsters behind it, and just as hard to beat.
But I've never been one to take her doom at face value. Cornered doesn't mean defeated, and in an awakened city that rules herself, dragons are no longer the biggest powers around.

Copyright secured by Digiprove
Acknowledgements: All book cover artwork and all text g more...
All Rights Reserved