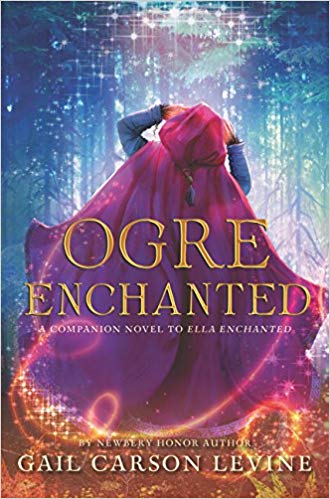 Ogre Enchanted
by Gail Carson Levine
★★★★★
How to be an ogre without eating anyone
Lucinda is up to her usual fairy tricks, but Evie is a bit more strongly willed than Wormy was expecting. Rather than accept his marriage proposal, Evie chooses to be turned into an ogre, embarking on a 62-day quest to find someone who will love her smelly, ogre-y self and that she will also love. She thinks she's too young to marry, plus she wants to marry for love. While Wormy is her best friend and target of many of her cures for his ailments, real and imagined, he's not exactly her soulmate, and Evie has the integrity not to pull him into something they might regret.
Evie takes being an ogre pretty much in stride and takes off for the Fens, where she hopes other ogres will teach her how to persuade humans to let her be. It's a journey that will test her will power (so many people look good to eat), perseverance (she could settle down with a nice band of ogres to help her), and kindness (it's not always easy to stop and heal people who would rather kill you).  Through it all, Evie does her best to act with good will and justice, despite how hungry she is or how hateful they are. It doesn't help that some of those who act the nicest are really rather nasty inside, and those that are nice on the inside don't always look nice on the outside.
Ogre Enchanted contains many lessons about judging people by their looks, being swayed by flattery and false praise, prejudice, mob mentality, and the value of kindness. It also has a great lesson on the advisability of allowing a certain fairy to attend one's proposal or wedding (or christening). Lucinda has yet to learn her squirrel lesson, as the story predates that, and her rather addle-pated gifts are their usual curses in this cautionary fairytale. It's bad magic to do big magic, and Mandy, our favorite practical fairy, is there to remind us that sometimes the best solutions have no magic at all.
Gail Carson Levine is at her fairytale best with humor, wit, and a quirky cast of characters. Highly recommended.
Book description
Evie is happiest when she is healing people, diagnosing symptoms and prescribing medications, with the help of her devoted friend (and test subject) Wormy. So when Wormy unexpectedly proposes to her, she kindly turns him down; she has far too much to do to be marrying anyone. And besides, she simply isn't in love with him.
But a certain meddling fairy named Lucinda has been listening in, and she doesn't approve of Evie's rejection. Suddenly, Evie finds herself transformed from a girl into a hideous, hungry ogre!
Stuck in this new and confusing form, Evie now has only sixty-two days to accept another proposal—or else be stuck as an ogre forever.

Copyright secured by Digiprove
Acknowledgements: All book cover artwork and all text g more...
All Rights Reserved