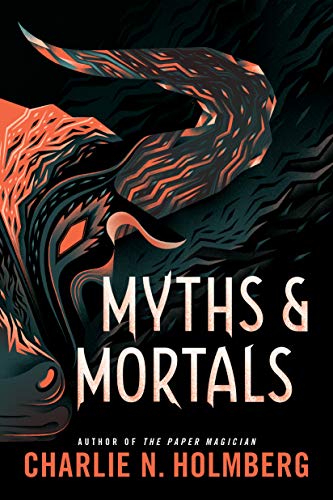 Myths and Mortals
by Charlie N. Holmberg
★★★★★
What is she without her fire horse?
Ireth, the fire horse numen, has been ripped from Sandis, his tattooed name marred and broken on her back. She is alone, betrayed by Rone, leaning on her uncle as the only family she has. But has she traded one set of fetters for another? How many betrayals can she survive? And can she survive without Ireth, the fire horse that she loves and that loves her? What message did he strive so hard to communicate while he still in-dwelled her? Can any of them stop Kazen before he raises Kolossos?
Sandis must grow in strength, character, and forgiveness if she's to right any wrong against her and Kazen's other vessels. And she does a lot of growing in this book, while Rone also matures and accepts more responsibility for his actions. It's not just the vessels, Sandis' fellow vessel and friends, or Rone that are at risk. They must stop a numen capable of destroying the world that they know.
Myths and Mortals is a magnificent follow-up to Smoke and Summons, Numina Book 1. The world and mythology expand even as the stakes get higher. As usual Holmberg has magnificent world-building, characterization, and plot devices. Her writing is polished and lyrical without being overly wordy or pretentious. Her word-pictures are clear and evocative. (Example: "… silence … clung to the dilapidated buildings like cobwebs…") Highly recommended for those who love deep, thoughtful fantasies and magnificent storytelling.
I received this book as a digital Advanced Reader Copy (ARC) from the publisher through NetGalley. My opinions are my own.
Book description
Sandis has escaped Kazen's grasp, but she finds herself unmoored, reeling from her thief friend Rone's betrayal.
Kazen has been hurt but not stopped, and he'll do anything to summon the monster that could lay waste to the entire world. Sandis knows she must be the one to stop him, but with her own trusted numen now bound to another, and finding herself with no one she can trust, she is in desperate need of allies. Rone seems determined to help her, but Sandis has no intention of letting him get close to her again. What she doesn't know is how much Rone gave up to protect her. Or how much more he is willing to give up to keep her safe.
As chaos mounts, Sandis must determine whom to trust. After all, the lines between enemy and ally have never been less clear…and corruption lurks in the most unlikely of places.

Copyright secured by Digiprove
Acknowledgements: All book cover artwork and all text g more...
All Rights Reserved