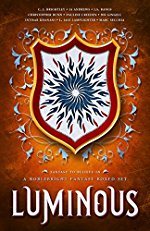 Luminous
by C. J. Brightley
★★★★★
Wonderful collection of fantasies!
Almost every one of the books included is worth the price of Luminous: A Noblebright Fantasy Boxed Set all by itself. So many of these collections just aren't that great, but Luminous has several quality novels, some of which are part of a series. Very glad that I picked this collection up.
Here are my thoughts on each story, just in case you're waffling over this collection:
The Lord of Dreams by C. J. Brightley
When a fairy king grants a human wish, there's more at stake than dreams. Absolutely mesmerizing and engaging. Even when I thought I was beginning to figure it out, I was caught in the tangle. The heroine grows from a selfish, unlikable girl into a true heroine. Wonderful story about the power of believing in others and sacrificial love.
A Threat of Shadows by JA Andrews
Haunted by his past and surrounded by companions carrying their own dark secrets, Alaric grasps at one last chance to save his dying wife.  Another great read with great world-building, character growth, truths about the human condition… did I mention it has a great story? Or how many boxes of Kleenex I went through near the end of the story?
Heir of Iron by J.S. Bangs
Family secrets. Forbidden Love. An empire on the brink of collapse. Another winner. Great world-building, great character growth, reluctant heroes, redemption, hard choices…
Wolfskin by W.R. Gingell
Sometimes the little girl in the red hood doesn't get eaten, and sometimes the wolf isn't the most frightening thing in the forest… Great read for those that love twists on traditional fairy tales. W.R. Gingell does it again.

Sunbolt by Intisar Khanani

A street thief with a dangerous secret, Hitomi finds herself betrayed to the dark mage who killed her father. One of my favorite stories by one of my favorite authors. Like everything Intisar Khanani, it's incredible.  A must read.
The Hawk and His Boy by Christopher Bunn
You can run as far as you can, but you can never escape the Dark. The first cliffhanger, but the entire trilogy is available through Kindle Unlimited and also for purchase for $6, which I think I'll do as it's a great story. I detoured to read the entire trilogy as I found the The Hawk and His Boy so enjoyable.
Chronicles of Steele: Raven: The Complete Story by Pauline Creeden
Just when Raven tries to leave the life of a Reaper, she's pulled right back in.  Couldn't get into it; skipped.
The Firethorn Crown by Lea Doué
After discovering a secret underground kingdom and a mysterious sorcerer-prince, Princess Lily must free herself and her sisters from a dangerous curse or face a lifetime of darkness. Haven't read this one yet. Will update this review when I do.
Rachel and the Many-Splendored Dreamland by L. Jagi Lamplighter
Magic school can be a lot more dangerous—and wondrous—than expected.   3rd in a series, and the first chapter had many references to things that happened in the first two books. Skipped.
The Pygmy Dragon by Marc Secchia
Now, the courage of the smallest will be tested to the utmost. For Pip is the Pygmy Dragon, and this is her tale. Read quite a bit, then skimmed.  Just couldn't get into it. It seems to be very young adult, but it has violence and sex, so not sure.

Copyright secured by Digiprove
Acknowledgements: All book cover artwork and all text g more...
All Rights Reserved