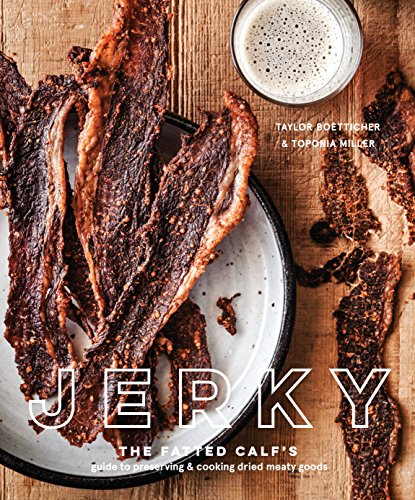 Jerky
by Taylor Boetticher  and Toponia Miller
★★★★★
Fascinating collection of jerky recipes with clear instructions
I grabbed Jerky: The Fatted Calf's Guide to Preserving and Cooking Dried Meaty Goods because my family  makes a LOT of jerky, but usually just vary between a couple of spice mixes, and I'd like to expand our repertoire. There is a lot of good information here, especially if you haven't made jerky before: everything from how to choose the appropriate type and cut of meat to how to slice the meat properly. There's a good explanation of the different drying methods also: smoking, dehydrating, sun-drying, etc. Folks that don't make jerky on a regular basis might be put off by the thought of making a food that isn't cooked at a high temperature, but spices, salt, smoke, and other ingredients make the meat inhospitable to bacteria, which is well explained in the book. I can see why folks might feel a little squeamish, especially by using pork or ground meats, because we've been brainwashed that we still must guard against trichinosis and other diseases that no longer a threat with the meat supply in our country. This is not to say one should not guard against bacteria by using food-grade meats, using the correct amount of salt, smoke, etc., and observing good hygiene and food-handling practices. And the authors recommend a nitrate blend where it's really needed to offset the risk of botulism.
The jerky recipes are spectacular and varied with an explanation of the origin, comprehensive ingredient lists, and clear instructions on how to prepare the jerky. I haven't made these recipes yet, but I've made a few that were close, so I can see the ingredient and methods will work. I'm going to make at least three of these jerky recipes as soon as life quits interfering, and I'll amend this review should the jerky not live up to my expectations. Then I intend to work my way through just about every recipe in this book. Variety is the spice of life!
I highly recommend this book to those who love jerky, who need high protein snacks for paleo or other similar diets, or who just want to try some interesting meats from around the world.
I received the hardback that I ordered today, and the binding is very high quality. I can't see if the signatures are saddle-stitched; I'm assuming that they are, as they are definitely glued to cloth. The paper is a good quality and thick without being overly heavy. There's no bleed-through or shadowing from the other side. The beautiful full-color photos and layout really shine. As an older person, I wish the type were about 2-4 points larger, but it's a decent size. Without measuring, I'm guessing the body text is 10 points. (I've gotten other cookbooks where the type was so small, it was pretty much unreadable.) I prefer the hardcopy to the ebook version.
I received this book as an Advanced Reader Copy (ARC) from the publisher through NetGalley. My opinions are my own.
Book description
Perfect for home canners and preservers; hunters; followers of a Paleo, Keto, or high-protein diet; fans of dehydrators; or anyone looking to explore the centuries-old craft of drying meat, this beautifully photographed cookbook contains 40 easy-to-follow recipes for making and cooking with homemade jerky.
From the IACP and James Beard Award-nominated authors of In the Charcuterie comes this concise guide to the art of making jerky at home. Approximately 40 recipes teach you how to make jerky and other dried meat dishes from a variety of proteins, including beef, pork, venison, and wild game. Clear step-by-step instructions plus beautiful and informative photographs show you how to butcher and season your meat, use a range of techniques and equipment, and even cook with your homemade jerky. These globally inspired recipes pull from Italian, French, Vietnamese, and Mexican culinary traditions, making this the perfect book for the modern meat enthusiast.

Copyright secured by Digiprove
Acknowledgements: All book cover artwork and all text g more...
All Rights Reserved