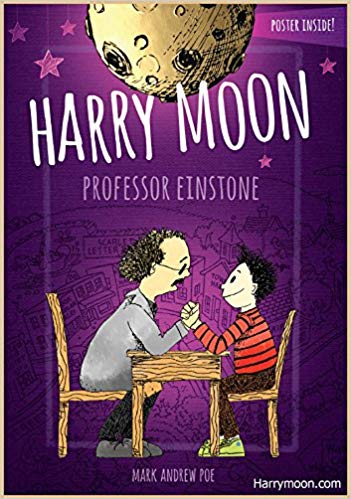 Harry Moon: Professor Einstone
by Mark Andrew Poe
★★★★★
Strange times at Sleepy Hollow Middle School
There's a new science teacher at Harry Moon's school, Professor Einstone. And with Professor Einstone come a slew of changes: new teachers, new books, and lots of advertising for Professor Einstone's memoir. Professor Einstone proclaims the superiority of science, that magic doesn't exist, and that he is the ultimate authority on rationality, reality, and reason. He closes down the school play, bans Tolkien, and takes over as principle.  But Harry knows that much of what Professor Einstone says is the opposite of what he's been taught by his teachers, his parents, and his trusted mentor.
The teachers that the kids know and love are disappearing, sometimes leaving in the middle of class. Cars with dark windows from We Drive by Night cruise through town. Have vampires taken over the school? Why is the nurse recommending unhealthy eating? Is this another diabolical plan by Mayor Kilgore? Will garlic be enough? Luckily there's always the Good Mischief Team. Can they solve the mystery and stop the evil plot before it affects all of Sleepy Hollow forever?
Kids will identify with Harry and his friends, standing up for what's right, and dealing with conflicting directives from various adults. Some, unhappily, will identify with the commercialization of their schools and the decimation of artistic scholastic endeavors. Harry Moon: Professor Einstone has a spooky mystery, quirky characters, and a lot of spunk cloaking a lesson in critical thinking.
Overall, a very fun, enjoyable story with a cool adventure/mystery for middle-schoolers and lots of conversation openers and teachable moments for teachers and parents. Highly recommended.
I received this book as an Advanced Reader Copy (ARC) from the publisher through NetGalley. My opinions are my own.
Book description
Harry's favorite science teacher is replaced by a mysterious out- of-town substitute, Professor Einstone. Something is simply off about the professor. When all of Harry's teachers react with the same, glassy- eyed expression, Harry and the Good Mischief Team investigate. It isn't long before Harry and his friends are embroiled in a scientific adventure where Harry's magic is needed to triumph over Professor Einstone's wicked ways.

Copyright secured by Digiprove
Acknowledgements: All book cover artwork and all text g more...
All Rights Reserved