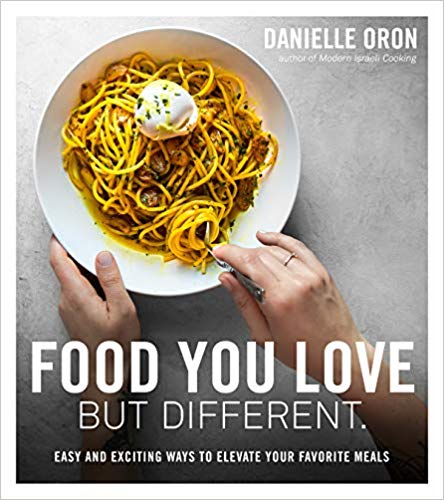 Food You Love But Different
by Danielle Oron
★★★★☆
I'm conflicted: interesting recipes, exotic ingredients, some are a bit too weird
When I ordered Food You Love But Different: Easy and Exciting Ways to Elevate Your Favorite Meals, I didn't realize the author was a chef. Now, I have a LOT of cookbooks by chefs, foodies, etc. I have a bookcase pretty much full of cookbooks. In my kitchen I have three shelves of spices that each span three cupboard widths, plus tons of herbs and ingredients that are stored in my fridge and my freezer.
I'm a pretty good judge of recipes. I cook many different cuisines, including Mexican, Thai, Indian, Italian, Chinese, Greek, Japanese, Korean, Cajun, Latin American, paleo, etc., etc., without flinching. (The type of food I cook the least is straight American, with the exception of grilling/barbecue.) All to say, I have a pretty good stock of ingredients… I thought. And I'm used to making things from scratch whether it's Brazilian cheese bread with tapioca flour, cassava tortillas, coconut and rice flour appams, various flavors of jerky, samosas, shao mai, etc. Sorry for the TMI, but all to say, I don't think I'm a stranger to exotic.
But this is a different level of exotic, more like cutting-edge bored chef who doesn't mind running to the ethnic or major gourmet store for strange ingredients for each meal.
So many recipes call for ingredients that I am going to have to hunt for, order off Amazon, or just substitute. Some, I can find by hunting the various ethnic markets in town, I think. I will manage on those recipes that I really want to try.
What I liked about this cookbook: So many new ideas and things that really sounded great. I can't wait to try many of these recipes. I loved the conversational style and back stories; it took the edge off what seems like rather forced exotic recipes at times.
What I didn't like: Some of the recipes just seemed pretentious. If the author has a hard time finding an ingredient and says so, most of us are going to really struggle. I do like that she admitted she orders some things from Amazon. Most of these dishes, you are not going to be able to just stop and make without forethought and planning ahead. Also, sometimes the dish just didn't seem to make any sense to my brain. That said, I'll probably try a few of those just to see if that amalgam of ingredients actually works. (I'm looking at you cheddar-cheesy oatmeal with kimchi and eggs. I cannot imagine how that tastes Korean. That said, the bacon and egg version… Yeah, I'm all over that.)
Overall, I am doubting the overall usefulness of this cookbook in everyday cooking due to the whole exotic ingredient scenario. However, I do expect to come away with several recipes that will change up how I cook certain dishes. I just have to plan ahead. Sometimes, planning way ahead to order necessary ingredients online or to get shop owners to order things for me.
I'll come back and amend this review when I've worked my way through a number of recipes, if the cooing of said foods changes my opinion of this book.
Book description
This one-of-a-kind cookbook is Danielle's love letter to her favorite foods: the easy, comforting ones that we all go to time and time again. But now, better. Yes, you can have your mac & cheese, but try it with Boursin Pepper cheese and you'll feel like you've reinvented the wheel. Nobody is going to say "no" to a cheeseburger when you add in some secret spices and pick the right type of beef. And who would have thought that fried rice could be livened up with just curry and some coconut milk?
Covering your every need, from breakfast and lunch to dinner and desserts, never again will you waste all your time in the kitchen only to have a meh meal. These are the dishes you love with some incredible― but easy―changes to keep them exciting. Consider your meals (and sanity) saved.

Copyright secured by Digiprove
Acknowledgements: All book cover artwork and all text g more...
All Rights Reserved