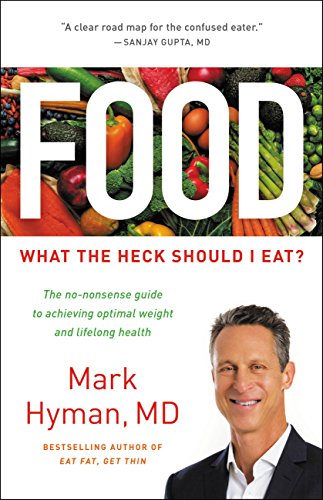 Food: What the Heck Should I Eat?
by Mark Hyman
★★★★★
Gives me hope! A doable guide to what we should be eating
Great intro to Hyman's "Pegan" diet, and you've got to love a reasonable middle ground. The Pegan diet seems logical, scientific, and doable. Let's face it, most of the universe acknowledges that the food pyramid is majorly broken and our stores sell more garbage than real food and nutrition. It's just so hard to figure out what we really can eat, especially if we have specific goals for our diets.
I hadn't read any of Mark Hyman's books before, but I was intrigued by the Pegan diet premise and his emphasis on functional medicine. The traditional medical community has failed so many people that I know. They keep treating the symptoms and not the causes. So we've had to do so much on our own. I've read so many books and articles on paleo and autoimmune protocol, not to mention having read about and tried vegetarian in the past. Frankly, I'd love eating vegetarian if it didn't make me sick as a dog. Well, okay, that and the fact that I was born a carnivore reaching out for a T-bone steak.
My daughter and I have celiac disease, food allergies, and multiple autoimmune diseases, and only two of our doctors have even talked about diet. Sticking to the paleo diet is just so incredibly hard when you can't eat so much of what's on it. We keep having to modify things to have a variety to eat and it feels as if we're disobeying the rules. Dr. Hyman makes a lot of sense, so I'm going to stop feeling guilty about some of the things that we include in our diet, such as buckwheat, some dairy, and lentils.
Reading about the Pegan diet gives me hope that there's a reasonable middle ground that's clean enough and doable enough that our family can stick to it. Some of the foods he recommends that you not eat are things that we can't eat anyway so that's actually a win for us, finally, LOL. Dr. Hyman may have designed a diet that my family can live with. We're about to find out!
I received an Advanced Reader Copy (ARC) from the publisher on NetGalley. (Although I was approved on NetGalley after I had already purchased this book, read it, and reviewed it, I'm including that information here for full disclosure.) My opinions are my own.
Book description
Did you know that eating oatmeal actually isn't a healthy way to start the day? That milk doesn't build bones, and eggs aren't the devil?
Even the most health conscious among us have a hard time figuring out what to eat in order to lose weight, stay fit, and improve our health. And who can blame us? When it comes to diet, there's so much changing and conflicting information flying around that it's impossible to know where to look for sound advice. And decades of misguided "common sense," food-industry lobbying, bad science, and corrupt food polices and guidelines have only deepened our crisis of nutritional confusion, leaving us overwhelmed and anxious when we head to the grocery store.
Thankfully, bestselling author Dr. Mark Hyman is here to set the record straight. In Food: What the Heck Should I Eat? — his most comprehensive book yet — he takes a close look at every food group and explains what we've gotten wrong, revealing which foods nurture our health and which pose a threat. From grains to legumes, meat to dairy, fats to artificial sweeteners, and beyond, Dr. Hyman debunks misconceptions and breaks down the fascinating science in his signature accessible style. He also explains food's role as powerful medicine capable of reversing chronic disease and shows how our food system and policies impact the environment, the economy, social justice, and personal health, painting a holistic picture of growing, cooking, and eating food in ways that nourish our bodies and the earth while creating a healthy society.
With myth-busting insights, easy-to-understand science, and delicious, wholesome recipes, Food: What the Heck Should I Eat? is a no-nonsense guide to achieving optimal weight and lifelong health.

Copyright secured by Digiprove
Acknowledgements: All book cover artwork and all text g more...
All Rights Reserved