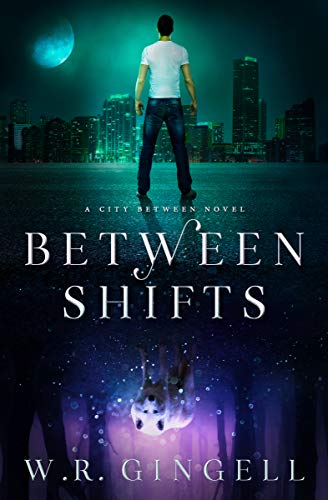 Between Shifts
by W.R. Gingell
★★★★★
Quips, quirks, and deadly monsters
Another awesome, frenetic read from W.R. Gingell. I just love Pet, and I was so jazzed to jump into another City Between book. Okay, I also love Zero, Aethelas, JinYeong, and the dryad, and just about anything Gingell puts into her stories (hallucinogenic digital ink, perhaps?). Along with wonderful, fantastical worlds, Gingell's quirky humor and character-charged storyline have Pet living through life-threatening and life-changing viruses, avoiding bacon, shifting Between, and throwing out knives and one-liners with casual badassery. ("People shouldn't leave motives lying around where they could be anybody's.")
Between Shifts is a great continuation of Between Jobs; the energy and mystery is still there. And the synergy and bond between the enforcers and their Pet continue to grow, despite evidence to the contrary. Add in pulling knives, swords, and other items from Between, her uncanny affinity for her house and its new occupants, and Pet might survive her latest problem: a slight case of lycanthropy.
What's very interesting about this series is the way the mysteries get darker, deeper, and twistier (rather reminiscent of Rachel Aaron, imo). There's a satisfying mystery that's pretty much solved and contained within this one novel, while the overall arc and mysteries behind the story grow and unfold lie origami sculptures. I'm very interested to see where everything is going!
Pros: A million quotable one-liners. Quirky humor. Unique character voices, even if some of them are in Korean or 90% facial expressions. A unique story. The cover!
Cons: Waiting for the next book.
Highly recommended for those who love fantasy, mystery, and wonderfully complex storytelling.  And perhaps those that are addicted to Gingell. 😉
Anyone who can mourn bacon during what should be an existential crisis on their journey to becoming a raw-meat-seeking wolf shifter has my vote: "Beggar me. I thought food was starting to smell bad, but I hadn't expected bacon to go so quickly."
Book description
There's a body beneath the skip bins. Fae on the forklift. A vampire in the manager's office. And there's definitely something skeevy going on in the locker rooms.
Hi. I'm Pet. Well, not exactly Pet. I am a pet.
I was meant to stay out of it, but somebody's gotta do something when humans are being killed by Behindkind creatures.
Lucky for me, my owners are just as dangerous and inhuman as the bad guys…

Copyright secured by Digiprove
Acknowledgements: All book cover artwork and all text g more...
All Rights Reserved