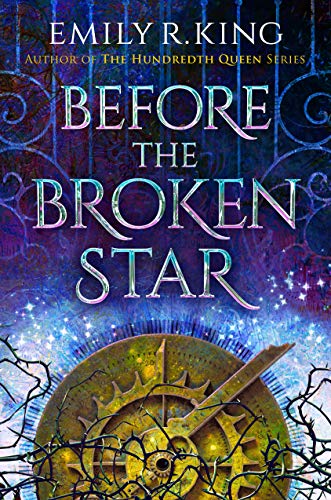 Before the Broken Star
by Emily R. King
★☆☆☆☆
Unlikable heroine, strange word and story choices, strange all the way around
I don't know why some authors think that cold and unlikable equates to strength. People keep telling Everley O'Shea (Eve, the Marionette) that she's cold, unapproachable, frosty, comes across as thinking she's better than others, etc. I don't know about the attitude, but she definitely comes across as completely self-centered, pushing away any help, without really giving enough reason or internal dialogue that we believe it's justified. Eve simply comes across as unlikable and uncaring. From ignoring the pleas and offered help from her uncle to how she treats the man who offers to be her husband out of kindness and a desire to protect her – he even promises to honor and not to touch her if she doesn't want it –  she comes across as a bratty witch.
Then there's the weirdness of her heart regulator and its alarm. She tucks it into the "nook" of her spine then buttons her waistcoat. Is it in front or in back? Later, she smothers the alarm by pressing it with her elbow. Okay, if it's tucked into the curve of her spine, how did she get her elbow back there? Or is it on her stomach and she's pressing her elbow into her stomach? Does it move around?
And that pesky alarm is always going off – over and over and over and over. No one thinks to check out this weird ringing, and even 25% in, her husband-to-be is clueless. "There's that noise again," he says. "What noise?" "The bell I hear when you're around." Well, gosh, you sure are dense. You heard it in the clock shop – LOUDLY, as the girl is carried from the room even, you heard it in the streets, you've heard it so many places including on the ship, you've heard it loud, muffled, and what-have-you-for-a-volume and you still haven't figured out where it comes from? That regulator is mentioned forty times in the book. Just get rid of it. It's danged annoying. I don't even hear it and I'm annoyed by how often the alarm sounds and how much Eve talks and thinks about it.
And, although Eve's ticker can't come in contact with water – a great fear of hers – it can be embedded in the human body which is over 60% water (more if you ignore the bone mass). Blood, lymph, plasma… any of that sound liquid? So… a wooden heart (actually, a pocket watch, hopefully explained later) embedded between her ribs is staying nicely dry. And there's room between her ribs for the glass face of the watch to poke through and be seen. Ouch!
Other issues: On the very first page of the book, we find: "In the beginning, there was no time, and no man or beast walked the world. Where ocean met the land, an ivory mare was born, her mane crafted from sea-foam and her body from barnacles. She was the Creator, goddess of all conception and supreme ruler of seven worlds." Okay, if she just emerged, is the creator and goddess of all conception, where did the barnacles (living things) that preceded her existence come from? And the "elderwood" – is that an elder tree? With acorns? Maybe that should have been an oak tree?
Or "I follow the tang of axle grease into the workshop and sift through drifts of sawdust to the storefront." How deep are these drifts? How does one "sift" through them? Is this rather like being in a snowstorm and pushing through three-foot-deep snow drifts? Shouldn't they sweep more often if they're more than just light drifts of sawdust?
Another weirdness – a sword is being replated. A strange thing to do to a sword. The same sword is "lightweight steel" and the gold grip, guard, and pommel are tinged green from neglect. Gold does not turn green from neglect. Brass does. Cheap gold-toned metal might turn your finger green, but a gold grip, steel guard, and pommel – whether it's steel or covered with leather – are not going to turn green.
In addition, Before the Broken Star is written in a staccato unsophisticated first person present. First person present is very difficult to do well, and it misses the mark here. A faster-paced, more forceful narrative would benefit from that style, but here things are rather windy and lackadaisical and made more confusing by the lack of a coherent inner monologue. I could go on, but I've invested enough time in this review and this book.
Before the Broken Star is a DNF for me. I'm over a quarter of the way in and I can't handle Everley's  witchy treatment of everyone, the alarm on her danged regulator going off constantly, or the strange word and phrase choices. It's all disconnected and discordant strangeness, and I'll move on to something more enjoyable. Not recommended if you like polished imaginative fantasy with deep characterization and world-building.
Book description
Everley Donovan is living on borrowed time. The lone survivor of her family's unexplained assassination, she was saved by an ingeniously crafted clockwork heart. But the time she was given won't last forever. Now, every tick-tock reminds her how fragile her existence is and hastens her quest to expose Killian Markham, the navy admiral who shattered her world and left her for dead. But Everley's hunt for justice will be a long and hard-won voyage.
Her journey takes her to a penal colony on a cursed isle, where she will be married off and charged to build the new world. It is here, and beyond, that hidden realms hide, treasures are unearthed, her family secrets are buried, and young love will test the strength of her makeshift heart. When Everley discovers Markham may not be who he seems, her pursuit for truth is bound to his redemption, her tragic history, and her astonishing destiny.

Copyright secured by Digiprove
Acknowledgements: All book cover artwork and all text g more...
All Rights Reserved