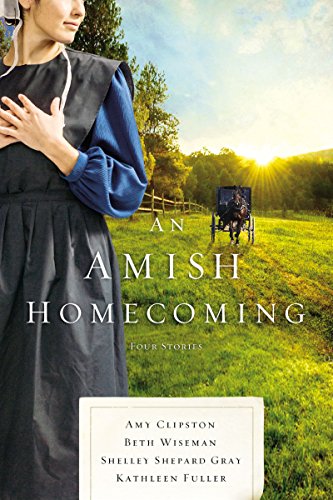 An Amish Homecoming
by Amy Clipston; Beth Wiseman; Shelley Shepard Gray; Kathleen Fuller
★★★★★
Sweet collection of Amish romances
An Amish Homecoming is a collection of four Amish romances. I'd only read one Amish romance before, but these seem very authentic with Pennsylvania Dutch vocabulary and references to the religious and societal structure of the Amish. The stories have a common theme (returning home), are well-written, have a genuine poignancy at times, and have well-developed characters.
Overall, the stories are about family, perseverance, redemption, and hope. All of the characters have a strong faith, moral code, and sense of justice. I found the Christian aspect to be well-done, balanced, and not overwhelming or preachy.
All four stories in An Amish Homecoming are sweet and relevant. There aren't easy answers for hard topics, each person must work through their pain and release it, but there is a lot of hope and happiness when they do. Not being very familiar with Amish customs and knowing these were fictional stories, I was still impressed with how God-focused their culture is. I can see that people in our material and rather hedonistic culture would be attracted to a simpler, more God-centered lifestyle.
No Place Like Home by Amy Clipston
Eva Dienner left home and met and married Simeon, when her family wanted her to stay and marry a local boy. Two years later, as she was pregnant with Simeon's child, he was killed fighting a fire. She stayed on, working at her in-laws' restaurant, and later quilting at home. When her son asks to meet his grandparents, she journeys back home to her family's dairy farm. There she discovers Ian living there and running their dairy. Is he taking advantage of her family? Does this man, whom her parents wanted her to marry, love her? Can Eva let go of her grief over Simeon and create a new life for herself?
When Love Returns by Beth Wiseman
Sarah Zook is an unwed mother who fled from her family and her fiancé six years ago. Her letters to her family have been returned unopened, as her parents have shunned her in an effort to get her to return. But Hurricane Harvey has taken everything from Sarah, forcing her to ask her parents for a place to live while she figures out her next step. Abram King has no idea why Sarah abandoned him, and he's floored by a five-year-old daughter that he never knew he had. But there are secrets and wound that have to be dealt with before Sarah, her family, and her old love can move on. Can they all survive the monster that inhabits Sarah's nightmares?
The Courage to Love by Shelley Shepard Gray
Marcus is suspicious of the woman who has moved in with his parents, earning her room and board by doing chores around the house. Irene Keim had been in the news lately because her life had been saved by a notorious criminal who died in the attempt.  Can a woman who had something to do with an underworld figure be up to anything good? As Marcus finds his antagonism has driven the woman from his parents' house, he must come to grips with the fact that he has acted badly and misjudged someone due to past experiences of his own. Can Marcus and Irene start over?
What Love Built by Kathleen Fuller
Carolyn is opening a bakery, and on-time if she has anything to do with it. Despite her best efforts, so many things go wrong as she determines to go it alone with help from no one. She's determined to show her community that she isn't the person they knew before, the one a previous bishop criticized and belittled. Atlee Shetler is still grieving for the loss of his beloved wife twelve years ago. He notices the bakery and it's problems and jumps in to help Carolyn. Can Atlee and Carolyn overcome their past and create a new future together?
I received this book as a digital Advanced Reader Copy (ARC) from the publisher through NetGalley. My opinions are my own.
Book description
Four brand new Amish stories of coming home.
No Place Like Home by Amy Clipston
Estranged daughter Eva Dienner has been staying with her in-laws since her husband was killed in a fire, but now she wants her son to meet his maternal grandparents. Upon her return, Eva finds that the man her parents always intended for her is living in their daadihaus and running the dairy farm for them for free, despite her suspicions of him taking advantage of her family. Eva knows she should put the past behind her, but is she ready to move into the future?
When Love Returns by Beth Wiseman
Hurricane Harvey forces Sarah Zook to return to the home she fled six years ago when she couldn't face her stern parents' reaction to her unplanned pregnancy. Upon her return, Abram King can think of nothing but the pain she caused him—until he meets Sarah's daughter and realizes that he never really stopped loving Sarah. Sarah and Abram must find a way to face the truth of their past so they can rekindle their first love.
The Courage to Love by Shelley Shepard Gray
After the death of her Englisch husband, Irene Keim seeks a fresh start by staying with her new friends Mary Ruth and Henry Wengerd in exchange for helping them around the house. But when Mary Ruth and Henry's son Marcus comes around, he isn't pleased with the woman they've taken in and is determined to push her out. Misunderstandings abound, but both Irene and Marcus learn that people aren't always what they seem.
What Love Built by Kathleen Fuller
Independent and headstrong, Carolyn is determined to forge ahead with the opening of her bakery, a lifelong dream, in the Birch Creek home she left ten years ago. But she's in over her head and needs help with the cleaning, shopping, and deliveries. Carpenter Atlee Shetler is visiting Birch Creek to escape the memories of his late wife. He takes a job renovating the new bakery and finds the project—and its owner—to be much more than he bargained for. Both Carolyn and Atlee must face pains of the past if they want to have the bright future God has planned for them.

Copyright secured by Digiprove
Acknowledgements: All book cover artwork and all text g more...
All Rights Reserved