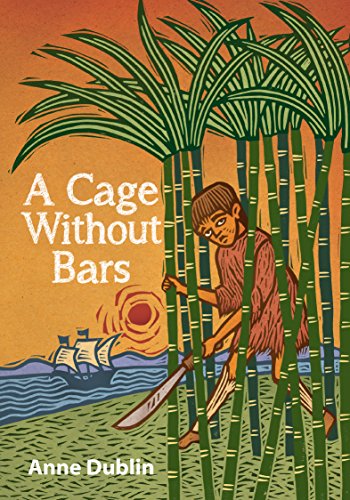 A Cage Without Bars
by Anne Dublin
★★★★★
Dark tale of a boy's journey into slavery
Joseph is a young Jewish boy in Spain when, one day before Christopher Columbus set sail for the New World, all Jews who would not convert to Christianity were expelled. His family, and thousands of others, walked to Portugal where, for the cost of their family's life savings, they were a allowed to stay for eight short months. In a cruel twist, just as Joseph and his family were to board a boat to leave Portugal for safety in Antwerp, they and the other Jews were forced to convert or become slaves of the King who had promised them safe passage. The children were separated from their parents, baptized against their will into Christianity, and forced upon a vessel bound for a distant land where they would create and work a sugar plantation.
Just as the Biblical Joseph worked hard to find favor with the Pharaoh, Joseph works to make himself useful wherever he is: on the ship, at the founding, in the sugar mill, and on the plantation as a whole. While his sister gets a position as a house slave, Joseph ends up being the only person on the island who knows anything about making sugar.
This is a hard book to read, not just for the slavery, but for the recounting of the cruelty, horrors, and deaths upon the ship, the disasters that struck with illnesses, fire, and accidents aboard the ship and on the island. There's also coverage of the convicts that had been aboard the ship, African slaves that were later brought in, and the dire straits under which all of them labored and slaved in harsh, hot, hazardous conditions.
Personally, I would not recommend that a young child read this book alone, but that it be read by a parent or teacher as a joint venture in learning.  There is a lot of darkness in this book, but it can be an opening for conversations from how slaves were treated, how slaves differentiated among themselves between Jewish and African, how men who had been sentenced to the gallows gained freedom through their three years of labor, the inhumanity of man to man, and the kindnesses of others that reach beyond class or language barrier. There is definitely food for discussion on present day slavery, debt slavery, generational slavery, what is being done to combat slavery, human trafficking and human rights, fair trade practices in the sugar and related industry, sugar boycott rationale for those who don't even want to purchase fair trade sugar, and even the destruction of indigenous plant and animal life with clear-cut or slash-and-burn farming. The topics are endless.
I'm tempted to detract one star from my rating, because the book ends rather abruptly, but that seems too harsh. There is a sudden resolution and Joseph's story ends just as he embarks on another ship. I'd really like to have seen the ending be more logical and for possibilities for Joseph's future discussed or even acted out. However, the end doesn't negate the power of previous narrative. One other negative aspect is the cover. At first, I considered the historical significance of the primitive wood-cut-type illustration, but then decided that the art, especially of the boy's face, while reminiscent of religious works, actually is so depressingly dark and off-putting that I think it will keep children from picking up this book. I hope the publisher will one day consider more fitting cover art.
Recommended with the above caveats for supervised reading.
I received this book as an Advanced Reader Copy (ARC) from the publisher through NetGalley. My opinions are my own.
Book description
In 1492, Queen Isabella and King Ferdinand of Spain signed the Edict of Expulsion, giving all Jews three months to leave the country. In the aftermath, twelve-year-old Joseph escapes to Lisbon, Portugal with his parents and younger sister, Gracia. After only eight months of safety, Joseph and Gracia, along with hundreds of other Jewish children, are kidnapped from the port in Lisbon and put on a ship. They then make a dangerous journey to the island of São Tomé, off the coast of West Africa. Now slaves, they are forced to work on a sugarcane plantation. Joseph must work in the fields, his life repeatedly saved by a combination of luck, strength, and quick wits. While Gracia tries to accept their circumstances, Joseph holds on to the hope that, one day, they will be free.

Copyright secured by Digiprove
Acknowledgements: All book cover artwork and all text g more...
All Rights Reserved