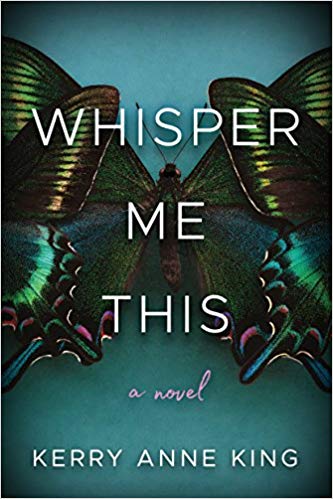 Whisper Me This
by Kerry Anne King
★★★★★
How can I like this story? How can it bring both pain and joy?
Whisper Me This is not what I expected; it's a much better story, deeper and more thoughtful, than the description would indicate. There are some basic questions: Who is Marley? Why has Maisey's mother gone so far to hide her sister's existence? Why has her mother bought a gun and been practicing kill shots? How deep and far do the secrets go? I don't normally read books with violence against women, but the description for Whisper Me This touched me, as there were similarities to my own childhood. I loved this story on so many levels! And while Whisper Me This starts out leading you in one direction, each story thread weaves its way about in unexpected ways. There are unexpected heroes, quiet guardians, and strong, courageous people battling through the mess and sacrificing themselves to save others. The writing is wonderfully fluid, the story more complex than I can go into, and the story threads tucked and woven into a coherent tapestry of triumph.
As the story starts, Maisey's working yet another temp job when she gets a shocking phone call. Her mother, who has never really approved of Maisey's scattered lifestyle, is in a coma as the result of a head injury and her beloved gentle-spirited father is the prime suspect. But Maisey knows her dad, ever one to rescue the odd insect or small animal, would never, ever hurt her mother. They might argue and yell now and then, but he'd never raise a hand to her mom. As she searches her childhood home trying to find her mom's advance directive even as her father attempts to destroy evidence perhaps at her mother's behest, Maisey discovers more than the physical trails: burned and shredded documents, a key to a safe deposit box, duplicate baby toys and blankets… She also discovers memories she hadn't realized she lost, that imaginary friends might be real, and that her mother isn't the person she thought she was at all.
I grew up in an abusive home, and while if you are heavily affected by PTSD, this story might trigger you, I didn't find it triggering, but oddly comforting, nurturing, and wise, as many people in this story, women and men alike, walk along the road to discovery, recovery, and freedom. Yes, some stay mired in the abuse, but more lift themselves out of their circumstances through their indomitable will and the love and support of friends and family. There are some incredibly deep life lessons here, and I say that as someone who has counseled young women and my own daughter over and over, trying to arm them against the risk of abusive relationships. And if you've never been in such a situation or known anyone in a similar situation, you'll still enjoy the story, because it works so well on so many levels.
There were some scenes that were evocative of any abusive home, so many pictures of girlfriends, wives, and children held hostage by a violent person, such as:
"He huddles together with his sisters, all of them on one narrow bed. Vanessa and Jess have burrowed under a blanket. Theresa and Barb sit cross-legged, Barb hugging a pillow. Baby Mia is asleep in Theresa's arms. Downstairs, in the kitchen, his father is shouting. His mother's voice, low and soothing, answers. Something crashes and all of them jump. The baby startles awake and begins to whimper, but Theresa hushes and rocks her, and she settles back to sleep. Barb, always braver than the rest of them, tiptoes across the room to close and lock the door. Tony knows there is no real safety in this; the door to the room he now shares with Mia is cracked and hangs on its hinges, a reminder that locks can be broken and doors can be kicked in."
I cannot tell you how many times I sat huddled on a couch with my brothers and sisters. Everyone holding their breath, as silent as rabbits waiting for the hunter but hoping it will pass them by if they are just quiet enough, still enough. We were statues, frozen, as we listed to the sound of breaking dishes, thrown furniture, and the raging of a parent that would destroy us if we caught its attention. I grew up believing that one day my mother would kill me. It was just a matter of time. (Ironically, I will never know which scars were inflicted by my mother and which were inflicted by my biological father. But it is the scars from my mother that took the longest to heal.) Okay, enough of the TMI personal info, right?
But in that same scene of abuse, there's inspiration for change, as a young boy cradles his baby sister:
' "I will," Tony says, louder now, feeling that his sisters don't believe him. "I'll punch him in the nose and make him bleed." "That would make you like him," Theresa whispers. "Do you want to be a man like that?" … " Something happens inside Tony's chest right then, a sort of melting that he's felt before when he's petting his neighbor's kittens. He doesn't want to shake Mia anymore […] He wants to hold her, and rock her, and make sure that she is happy and safe. Theresa nods at him. "That's the kind of man you want to be, Tonio. Don't you forget it." '
And Tony goes on to live his whole life driven to not be the man that his father was. While it isn't always men that are abusive, for the most part it is in Whisper Me This. And that's probably to the good, since there are so many stories within stories, that to try to work in one more dynamic just to get the full range of abusive personalities might be excessive. But then again, I think this author could pull it off. Interwoven into Whisper Me This are journal entries of another story, the journal of Maisey's mother… a story that slowly winds its way through the whole, a background as rich and nuanced as the real-time action.
How can I like this story??? I mean, I cried through a ton of it! How can a story of abuse be satisfying? How can that emotional wrenching be good? (I can't tell you how many Kleenex bit the dust during the hours I spent reading this book.) But this book for me was a wonderful reminder of how far the people in my life and I have come, it was a touchstone for current sanity and life assessment, and it was so incredibly insightful while entertaining. Yes, this is a wonderful story with many layers, but that's not all there is to it. I believe Whisper Me This would be an invaluable guide and conversation opener for someone who wanted to teach young people how to avoid abusive situations or how to get through to someone who's currently in an abusive situation, and it also serves as a reminder to those of us who left those abusive relationships in the past to forge a new life with healthy relationships based on love and respect.
It's taken me several hours to be able to write this review, as it's so hard to explain why this is not just good novel for a book club to read – and believe me, I believe every book club should read it, but what a strong tool this could be. It is SO important that young people have conversations about the very material that this book covers in a real and living way. It's not just a guide, a list of grooming behaviors, or a PowerPoint presentation. It's not dry and factual, but alive and vibrant and soul-wrenching. And it makes you consider what constitutes abuse, what is the line that divides love and obsession, respect and fear… and offers several ways to step back from abusive relationships. I believe the very emotions this book evokes and the stories it tells are what can protect young people and older folks alike from abusive relationships and inspire others to escape them.
I'm very glad I chose this book as my Amazon July First Reads choice.
Book description
Single mother Maisey Addington has always fallen short of her own mother's expectations—never married, a bit adrift, wasting her high IQ on dead-end jobs. The only thing Maisey's sure she's gotten right is her relationship with her twelve-year-old daughter, Elle…until a phone call blows apart the precarious balance of their lives. Maisey's mother is in a coma, and her aging father faces charges of abuse and neglect.
Back at her childhood home, Maisey must make a heartrending life-or-death decision. Her confused father has destroyed family records, including her mother's final wishes. Searching for answers, Maisey uncovers one unspeakable secret after another when she stumbles upon a shattering truth: a twin sister named Marley.
Maisey's obsession with solving the mystery of her sister forces her to examine her darkest memories and triggers a custody battle with Elle's father. Will Maisey's love for her daughter be strong enough to break a cycle of abuse and create a new beginning for them all?

Copyright secured by Digiprove
Acknowledgements: All book cover artwork and all text g more...
All Rights Reserved