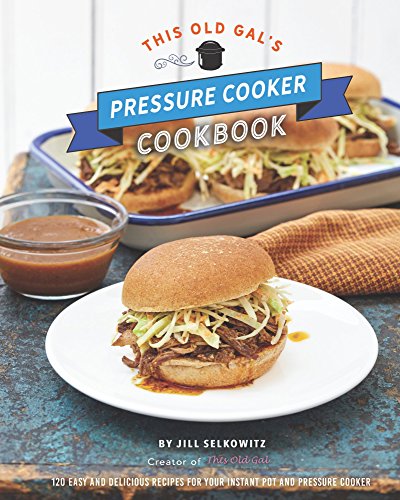 This Old Gal's Pressure Cooker Cookbook
by Jill Selkowitz
★★★★★
Inspiring, great all-around cookbook
I came into This Old Gal's Pressure Cooker Cookbook not familiar with the "This Old Gal" website or any of Jill Selkowitz's endeavors, but I'll definitely be researching them now! This is an awesome cookbook with mouthwatering photos to whet your appetite. There are lots of helpful tips, recipes for many popular ethnic dishes along with traditional American standards. Reading through the various sections had me snatching up this cookbook in Kindle and in hardcover formats, as I can tell it is a keeper and will become a go-to cookbook in our house, useful for everyone from beginners to experienced cooks. While I've decades of cooking experience, I intend to use it for myself and also to help teach a young woman with autism how to cook. There are many recipes that will become family standards, from classical frittatas to international flavor favorites.
To give you an idea of what is in this cookbook, since it's hard to judge from the sample, here's some info on the various sections.
TOG Pressure Cooking Tips
These are essential cooking tips, including one of the most helpful tips I ever got in my decades of cooking: hot pot, cold oil. Don't laugh; it's a life-changing tip for those of us who cook with stainless steel. It makes stainless steel act pretty dang close to non-stick. Great advice on release methods, timing, safety, etc.
Essential TOG Tips, Tools, and Kitchen Accessories
Another great section of useful and vital info, including info on pasta, using potato starch to seal moisture in meat, preferred cheese and mushrooms, chili paste, fish sauce, bone broth, essential pressure cooker accessories, and much more.
Seasonings, Sauces, and More
Useful collection of recipes for basics, including taco seasoning, seafood seasoning, garlic-ginger paste, spaghetti sauce, tzatziki, pico de gallo, and more.
Breakfast
Includes recipes for mini frittatas made in mason jars, steel-cut oat recipes, jalapeno popper soufflé, and more.
Chicken Dinners
Includes recipes for a twist on mac-n-cheese, enchiladas, Polynesian chicken, chicken wings, honey garlic chicken, bruschetta chicken with zoodles, creamy Tuscan garlic chicken, and more.
Pork Dinners
Includes recipes for Pulled pork, carnitas, Cuban garlic pork, Okinawan Shoyu pork, Vietnamese-style meatballs, and more.
Meat-Lover Family Favorites
Includes recipes for French dip sandwiches, sloppy joes, tacos, meatloaf, meatballs, Salisbury steak, gyros, and more.
Easy Bowls
Includes recipes for Pad Thai, Vietnamese pork, egg roll, chicken taco, Cuban black bean quinoa, and Pad See Ew.
Indian Meals
Includes recipes for Tikka masala, mata paneer, murgh makhani, and more.
Soups and Stews
Includes recipes for creamy carrot-ginger soup, chicken marsala mushroom soup, ratatouille, American wedding soup, Korean kalbi soup, chile con carne, seafood corn chowder, and more.
Chinese Favorites
Includes recipes for Chinese barbeque pork (char siu), hot and sour soup, orange pepper chicken, beef and broccoli, and more.
Jewish Favorites
Includes recipes for blintz soufflé, Passover vegetable matzo lasagna, gefilte fish, noodle pudding, matzo-ball soup, and more.
Pasta and Italian Favorites
Includes recipes for spaghetti with homemade sauce, chicken marsala, wild mushroom risotto, meatballs in red wine sauce, chicken piccata, bacon butternut pasta, penne alla vodka, and more.
Grains and Legumes
Includes recipes for basic white and brown rice, pistachio couscous pilaf, orange couscous pilaf, Cuban-style black beans, and more.
Appetizers and Sides
Includes recipes for cauliflower soufflé, baked beans, potato salad, creamy goat cheese polenta, yucca con mojo, sweet potato casserole, simple sweet acorn squash, and more.
Desserts
Includes recipes for peppermint milkshake cheesecake, New York cheesecake, mocha latte mousse, rum raisin rice pudding, British egg custard, easy lemon curd, and more.
Highly recommended as a wonderfully complete pressure cooker recipe collection that will benefit anyone from beginning to experienced cooks.
I received this book as an Advanced Reader Copy (ARC) from the publisher through NetGalley. My opinions are my own.
Book description
Your Family's Favorite Meals Are Here . . . in a Fraction of the Time!
If you've got a pressure cooker or Instant Pot and you need easy, delicious, everyday recipes that will keep your family coming back for more, then This Old Gal's Pressure Cooker Cookbook is for you!
Get tasty, easy-to-prepare meals on your table in a fraction of the time! Millions of people visit This Old Gal's blog to access her incredibly effortless and satisfying pressure cooker recipes, and now you can get her classic favorites at your fingertips, along with brand-new, never-before-seen recipes. This Old Gal's Pressure Cooker Cookbook features 120 recipes, tips for getting the most from your pressure cooker, and the quickest, tastiest dishes that will keep 'em coming back for more!
Want to learn how to make Creamy Tuscan Garlic Chicken? How about Drive-Thru Tacos? Salisbury Steak? Or Penne alla Vodka? With beautiful photographs and step-by-step instructions, as well as freezer-meal tips, pot-in-pot recipes, and more, Jill will show you how to use your pressure cooker to make anything from appetizers, pastas, meats, and desserts—you'll never be at a loss for a delicious meal! Stop wasting money and time on mediocre take-out meals and make dinner fun again with your pressure cooker. Your family will thank you!

Copyright secured by Digiprove
Acknowledgements: All book cover artwork and all text g more...
All Rights Reserved