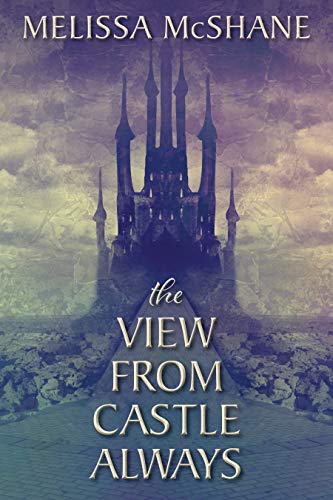 The View from Castle Always
by Melissa McShane
★★★★★
Yes, Virginia, there is a happy ending…
Really… there's a happy ending. Good triumphs; evil loses. They all live happily ever after. Well, some of them live happily. Some of them live. Maybe not the way they had planned. Maybe there's a twist or two… Maybe the happy ending isn't quite the ending you'd expect. I had to say all that, because there's a reviewer who thinks evil won and that the heroine became what she hated. And that's the top review on Amazon even as I write this one, which is sad because that reviewer totally missed the whole point and totally misunderstood the entire ending. (I'm thinking they skimmed or something, because they sure didn't read the ending that I did.) So please know that that reviewer, sadly, got it wrong. Please don't let their misunderstanding keep you from another great book by Melissa McShane.
So back to my review:
When Ailanthe is rejected by the trees of her native land, she sets off to find her destiny at Castle Always, a magic construct that's been sending heroes on adventures for hundreds of years. There's one slight problem. Castle Always seems intent on trapping Ailanthe inside its walls forever. Ailanthe has two companions, a man who refuses to leave Castle Always unless it's on his own terms, and Miriethiel, an enchanted cat. Well, and then there are the sprites, the malignant shadows, and a rather arrogant young adventurer, Tristram, who refuses to leave the castle without Ailanthe, and perhaps some enchanted armor and mannequins… Who knows what lurks in the corners and rooms of this sprawling enchanted… but something (somethings?!) lurks.
As Ailanthe searches the castle in a quest to find her way home, she will discover there's more to being free than walking out of the castle, there's more to choosing a destiny than accepting someone else's plan, and perhaps free will means making hard choices that cost you freedom. As Ailanthe gets closer to escaping her imprisonment, something stirs within the sentient castle. A sleeping magic is just about to wake up. Can Ailanthe and Coren find their destiny before it destroys them?
The View from Castle Always is a standalone novel with competent world-building, two strong main characters who act intelligently, a plot that thickens as the mystery is revealed layer by layer, and a richly satisfying and twisty end.  Highly recommended for anyone who loves great fantasy, nuanced storytelling, and twisty endings.
Book description
Men and women come to Castle Always to receive a destiny. Few of those questers survive to return home. Mysterious, difficult to find, and possibly sentient, the Castle keeps its secrets hidden away where no one thinks to look for them.
Unlike other questers, Ailanthe just wants to return to her forest home. She travels to the Castle searching for something to send her back, not for a destiny. But the Castle refuses to let her leave—and worse, it wants her dead.
With the help of another man trapped by the Castle, Coren, and the mysterious cat Miriethiel, Ailanthe sets out to unravel the truth about the Castle not only to gain her freedom, but to save her life.

Copyright secured by Digiprove
Acknowledgements: All book cover artwork and all text g more...
All Rights Reserved