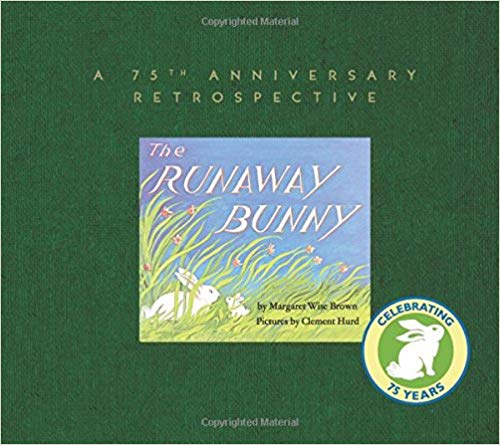 The Runaway Bunny
by Margaret Wise Brown, illustrated by Clement Hurd
★★★★★
What happens when a little bunny runs away from home? Timeless

The Runaway Bunny is a timeless classic, proven by the fact that the hardback I just bought for my niece was the 75th anniversary edition. While I know probably hundreds of thousands, maybe even millions, of children have read The Runaway Bunny by now, including my own, a scene that is indelibly etched in my memory is of a retreat where I witnessed a man read this book to a room of 50 or 60 women. These woman were so focused, intent, and moved by this book that you could have heard a pin drop from the moment the gentleman started reading until he finished. There weren't many dry eyes in the place as the women related to the type of love that follows and waits for the loved one to turn back to them. It is a love that waits and watches, never forcing itself upon another, but patiently and diligently keeps guard and maintains a place of safety for the loved one's return.
That's the magic of this story which was written three-fourths of a century before helicopter parenting was a thing. This isn't helicopter parenting, but it's what safe parenting ought to be. The mother rabbit knows that the child needs to run away, to practice independence, to be free to make mistakes, but she allows this freedom in a gentle guardianship. Almost all her actions are simply to watch over and keep her little bunny safe and to be there when he has stretched his legs enough and needs to rest in safety. The mother rabbit doesn't snatch the little bunny/bird out of the air, she forms a tree in which he can safely perch and rest when he chooses to. It is the best of love that allows room to grow and the safety in which to do it.
Small children will relate to this story and to the desire to run away, to be independent, but they will also relate to their desire to have a parent waiting for them in a place of safety, ready to offer rest and refreshment when their wandering ways carry them back home. They will also love and relate to the many adventures the little bunny envisions as he dreams of a future where he is free and grown, ready to wander where he will to conquer the world.
I'm so glad I picked this up, because I admit I read through it after it showed up. (Quality control, you know, lol.) The retrospective was quite illuminating, as I had no idea about the history of the author, the artist, or the story. I may have to buy a copy of the edition for myself. I had picked this up after I got a shower invitation from my niece lately asking people to bring a book instead of a card along with their gift. I grabbed three of our old childhood standbys: Stellaluna, Verdi, and The Runaway Bunny. It's so hard to choose so few out of so many of our favorite books, so she may be inundated with more books as her son gets older. 😉 I also ordered a new favorite, A Boy and a House, but I'm not sure it will get here in time for her shower.
Highly recommended; simply one of the sweetest picture books for children out there. The fascinating retrospective included with The Runaway Bunny: A 75th Anniversary Retrospective is a wonderful bonus.
Book description
Celebrate the 75th anniversary of The Runaway Bunny, by beloved children's book author Margaret Wise Brown and illustrator Clement Hurd. With foil stamping on the linen case cover and a commemorative foil sticker, this special edition is a must-have for collectors and children's book fans.
The Runaway Bunny, first published in 1942 and never out of print, has indeed become a classic. This beautiful 75th anniversary edition includes the original picture book followed by a 32-page retrospective look with lively anecdotes, exclusive photographs, and archival material. Also features an essay by noted children's book historian Leonard S. Marcus.

Copyright secured by Digiprove
Acknowledgements: All book cover artwork and all text g more...
All Rights Reserved