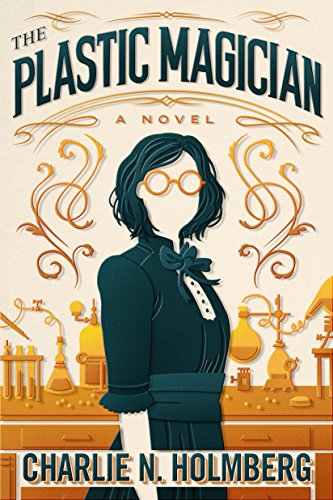 The Plastic Magician
by Charlie N. Holmberg
★★★★★
When a bookish girl studies to be a plastic magician, her peculiar talents might just be world-changing…
 …if Alvie Brechenmacher and her mentor can outwit a dangerous rival. Alvie is apprentice to Marion Praff, a world-famous inventor/magician.  Both are driven to find novel applications in the new field of Polymaking. Shortly after beginning her apprenticeship, Alvie makes a new friend who inspires her to use Polymaking to solve her friend's medical problem. While she's working on the solution, can Alvie discover what her own heart desires?
Charlie N. Holmberg is at her original best blending magic, science, and steampunk for a unique magic system. Holmberg excels at satisfactorily twisty mysteries, character-driven stories, and compelling world- and character-building.
The Plastic Magician is a great addition to the world of The Paper Magician with a few characters crossing over in support roles, so this book can easily be read as a standalone novel.  While the storylines were all wrapped up, there was one magical aspect that was left partially solved which could lead to additional stories with Alvie.
We can only hope!
I received this book as an Advanced Reader Copy (ARC) from NetGalley. My opinions are my own.
Book description
Alvie Brechenmacher has arrived in London to begin her training in Polymaking—the magical discipline of bespelling plastic. Polymaking is the newest form of magic, and in a field where there is so much left to learn, every Polymaker dreams of making the next big discovery.
Even though she is only an apprentice, Alvie is an inventor at heart, and she is determined to make as many discoveries—in as short a time frame—as she can. Luckily for her, she's studying under the world-renowned magician Marion Praff, who is just as dedicated as Alvie is.
Alvie's enthusiasm reinvigorates her mentor's work, and together they create a device that could forever change Polymaking—and the world. But when a rival learns of their plans, he conspires to steal their invention and take the credit for it himself.
To thwart him, Alvie will need to think one step ahead. For in the high-stakes world of magical discovery, not everyone plays fair…

Copyright secured by Digiprove
Acknowledgements: All book cover artwork and all text g more...
All Rights Reserved