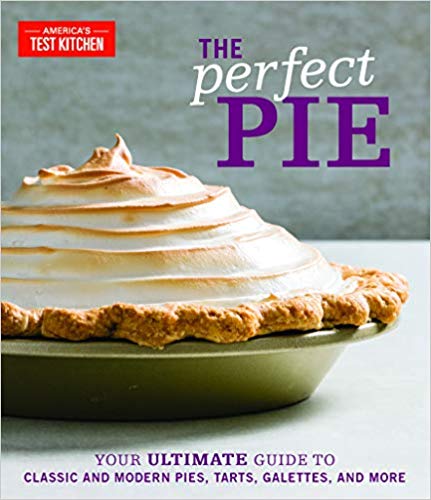 The Perfect Pie
by America's Test Kitchen
★★★★★

Great recipes with vegan and gluten-free crusts recipes included
The Perfect Pie: Your Ultimate Guide to Classic and Modern Pies, Tarts, Galettes, and More by America's Test Kitchen not only has a large selection of recipes of different types of pies (double-crust fruit pies, cream pies, custard pies, meringue pies, tarts, galettes, chiffon pies, and ice cream pies), but includes pie and tart crusts for vegans and those with celiac disease and gluten intolerance. There is a nice section explaining the different types of pies, core pie-baking techniques including different types of pie crusts, pie baking equipment and tools, explaining the building blocks of pie baking, pie pantry staples and more. Sections include: Getting Started, Mastering the Classics, Custard, Cream, and Curd Pies, Upping Your Pie Game, Elegant Tarts, Pies Big and Small, Regional Pies, Icebox and Ice Cream Pies, Pie and Tart Doughs, and Sauces, Topping, and More.
This book has plenty of pictures illustrating every aspect of pie making and the various pies included. The staff took each pie recipe and perfected it for modern cooks, including straightforward instructions, and plenty of pictures.
My only complaint is that I wish the font were larger for those of us who don't have the greatest eyesight.
Very, very happy with this wonderful compendium of pie recipes. Lots of fun cooking incoming!
Book description
The Perfect Pie is the definitive guide to gorgeous pies and tarts. Maybe you want to master homespun pies that celebrate seasonal produce, or get creative with pastry-encased canvases for modern flavor profiles. No matter your pie preference, this collection will inspire you to bake. We've tested our way to the best techniques for building foolproof bakery-quality pies from the crust up: Learn how to create the flakiest pie crust from dough that's a breeze to roll. Become the expert in classics like Sweet Cherry Pie and also wow with pies that show off interesting flavors like Blueberry Earl Grey Pie (tea is infused into the filling and an adorning glaze) or Browned Butter Butternut Squash Pie with Sage. Make meringues that don't weep, or fruit filling for Deep-Dish Apple Pie that doesn't shrink under the tall-standing top crust. Discover the world of tarts like Chocolate-Hazelnut Raspberry Mousse Tart with looks that deceive its simplicity (we top crispy store-bought puff pastry with a quick mousse), sleek sesame brittle-decorated Chocolate-Tahini Tart, and rustic galettes.
When you're ready to up your game, learn to design intricate pie tops (think: braided edges for Pecan Pie; a herringbone lattice pattern for Ginger Plum Pie; creative cutouts for Apricot, Vanilla Bean, and Cardamom Pie; and candied peanut clusters for Peanut Butter and Concord Grape Pie), fashion pies big (slab pies for a crowd) and small (muffin tin pies, jar pies, and pie pops), and use ingredients you never thought to put in pie like husk cherries or rose water.

Copyright secured by Digiprove
Acknowledgements: All book cover artwork and all text g more...
All Rights Reserved