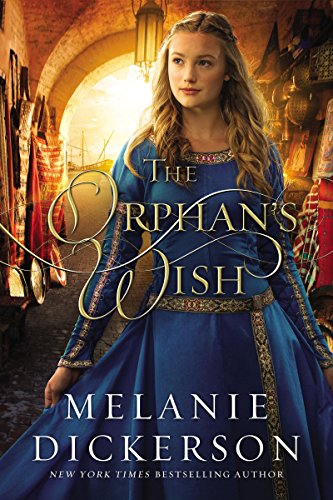 The Orphan's Wish
by Melanie Dickerson
★★★★★
Sweet fairytale romance…  can an orphan Saracen win a Lady's heart?
Aladdin is transplanted from his homeland to a European orphanage, where he becomes friends with the daughter of one of the orphanage's patrons. Through their childhood friendship, Aladdin and the duke's daughter become as brother and sister. Aladdin has a wonderful work ethic and works hard to earn a position of assistant steward. While Aladdin could become steward, he doesn't want to remain a servant, and he doesn't want to remain Lady Kirstyn's friend; he wants to build his own fortune and offer for her hand.
Aladdin has a long way to go, journeying to another city with a man who becomes like a father to him. While many recognize his genius for turning businesses around and making an honest profit, others have more nefarious purposes, and Aladdin must battle efforts to discredit him.
Can Aladdin make his fortune and marry his Lady? Can she move beyond their friendship and desire him as a husband? There are perils in store for both, as evil people plot against them out of spite and jealousy. But if they can hold out, they may just have a future together.
Very sweet twist on Aladdin.
I received this book as an Advanced Reader Copy (ARC) from the publisher through NetGalley. My opinions are my own.
Book description
Orphaned and alone, Aladdin travels from the streets of his Arab homeland to a strange, faraway place. Growing up in an orphanage, he meets young Lady Kirstyn, whose father is the powerful Duke of Hagenheim. Despite the difference in their stations, Aladdin quickly becomes Kirstyn's favorite companion, and their childhood friendship grows into a bond that time and opposition cannot break.
Even as a child, Aladdin works hard, learning all he can from his teachers. Through his integrity, intelligence, and sheer tenacity, he earns a position serving as the duke's steward. But that isn't enough to erase the shame of being forced to steal as a small child—or the fact that he's an orphan with no status. If he ever wants to feel equal to his beautiful and generous friend Kirstyn, he must leave Hagenheim and seek his fortune.
Yet once Aladdin departs, Lady Kirstyn becomes a pawn in a terrible plot. Now, Aladdin and Kirstyn must rely on their bond to save her from unexpected danger. But will saving Kirstyn cost Aladdin his newfound status and everything he's worked so hard to obtain?
An enchanting new version of the well-known tale, The Orphan's Wish tells a story of courage and loyalty, friendship and love, and reminds us what "family" really means.

Copyright secured by Digiprove
Acknowledgements: All book cover artwork and all text g more...
All Rights Reserved