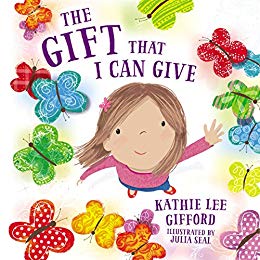 The Gift That I Can Give
by Kathie Lee Gifford
★★★★★
All of us want something important to give the world
The colorful and touching art is the crowning jewel of The Gift That I Can Give, illustrating the many ways that children can serve others and use the various gifts that God has given them to be his hands and feet in the world. While the book starts by illustrating the major attention-getting gifts such as singing, athletics, and dancing, it goes on to point out the importance of the quieter gifts, such as encouragement, empathy, kindness, and sharing God's love that are as important as the showier gifts and needed in everyday life.
The art will keep little ones enthralled and help start many conversations. The inner knowledge that all gifts are important and valuable will stick with them for a lifetime.
The Gift That I Can Give is a sweet book with deep roots to share with little ones. Highly recommended.
I received this book as an Advanced Reader Copy (ARC) through NetGalley. My opinions are my own.
Book description
Kids don't have to wait until they are grownups to make the world a better place! The newest Kathie Lee Gifford book empowers children to find unique ways to make a difference in the lives of those around them.
The Gift That I Can Give is a heartwarming story that shows how all children can do something today to make a positive impact on others. From simply being kind to giving a loved one an extra-big hug to cheering for a friend, this story will inspire children with countless ways to show God's love, leading them to want to read it again and again.
Kathie Lee is a trusted voice who feels like a friend for countless people. With her strong faith, enthusiasm, and playful writings, she appeals to young hearts and encourages them with the message that no one is too young or too small to share their gift with others.
Kathie Lee Gifford is the three-time Emmy award-winning cohost of the fourth hour of the Today show, alongside Hoda Kotb. In 2015, Gifford was inducted into the Broadcasting & Cable Hall of Fame. She has written four New York Times bestselling books. Former cohost of Live! with Regis and Kathie Lee, she is also a playwright, producer, singer, songwriter, and actress. Gifford has a passion for children and has been involved in numerous child-help organizations including Cassidy's Place and Cody House, named after her two children.

Copyright secured by Digiprove
Acknowledgements: All book cover artwork and all text g more...
All Rights Reserved