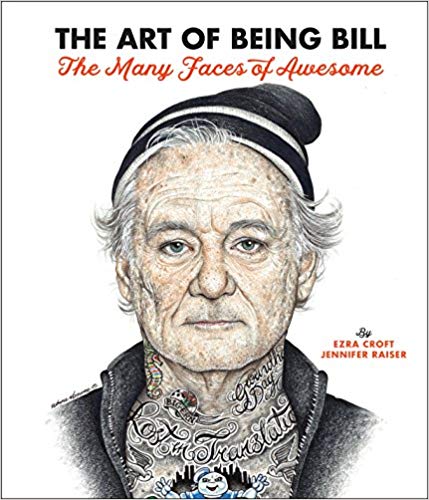 The Art of Being Bill
by Ezra Croft and Jennifer Raiser
★★★★★
One of a kind; who can define him or capture his essence?
The Art of Being Bill: Bill Murray and the Many Faces of Awesome is endlessly mesmerizing and beautifully evocative of Bill Murray's many nuanced personalities. While the idea to create an art show spotlighting Murray was simply brilliant, to curate that collection and add the posters and background info for many of his memorable films for our enjoyment and edification creates a synergistic Bill-fest. This book is simply fascinating and fun beyond what it ought to be. I found myself flipping my tablet around many times to get my partner to admire yet another artistic interpretation of Bill Murray.
Overall, the movie info interesting read in and of itself, but it's the nearly 150 artworks that really make this book truly inspiring. It will never cease to amaze me how art can expand and illuminate a picture beyond the object that it is representing. Like hearing an orchestra or choir render a soulful chorus from Les Miserables with such emotion that we are left with chills and goosebumps running down our spine, The Art of Being Bill, communicates more than the sum of its parts.  It is a haunting poignancy at times that inexplicably moves and elevates. While I found a few of the pictures rather mundane, most were brilliantly executed and highlighted the nuances in Bill Murray's cragged features, including his indelibly soulful gaze, and expressions that range from sorrowful to beatific and from querulous to imperious.
The Art of Being Bill is a unique collection that I hope will be repeated for other memorable character actors. Highly recommended for movie buffs, fans of Bill Murray, and connoisseurs of coffee-table art books. The Art of Being Bill could stand alone to entertain as the life of the party; just add fans.
I received this book as an Advanced Reader Copy (ARC) from the publisher through NetGalley. My opinions are my own.
Book description
The Art of Being Bill is the first illustrated collection of Bill Murray, highlighting the star like you've never seen him before: Bill Murray at The Last Supper, Bill Murray as an Indian god, Bill Murray as a knight, Bill Murray as Superman, and numerous other artistic tributes that will amuse and inspire you.
Are you Murray obsessed? Then what better way to celebrate everything Bill Murray than through art? The Murray Affair, a traveling Bill Murray art show, does just that. Join in the celebration with The Art of Being Bill, a multifarious, colorful collection of over 150 Bill Murray–inspired artworks, many of which are curated from the show. Just like the man himself, the artwork in The Art of Being Bill is both poignant and funny, from paintings and sketches to digital masterpieces, all highlighting Bill in uniquely creative ways.
Featuring artists from all over the world, details about the inspiration for each piece, fun facts from his groundbreaking movies, and a critical appreciation of some of Murray's landmark roles—spanning his incredible career from Ghostbusters and Groundhog Day to Lost in Translation and The Royal Tenenbaums—this is the ultimate gift book for the film buff, art lover, and Murray addict in your life.
There's only one Bill. But he's a million kinds of awesome.

Copyright secured by Digiprove
Acknowledgements: All book cover artwork and all text g more...
All Rights Reserved