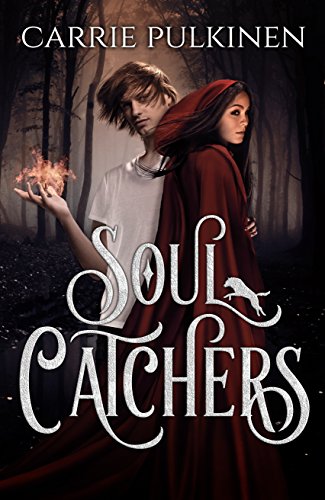 Soul Catchers
by Carrie Pulkinen
★★★★★
What happens when Red Riding Hood IS the wolf?!!
Soul Catchers paints a dystopian world where people are huddled in cities behind walls, frightened of monstrous wolves and anyone endowed with supernatural powers. The only problem is that anyone who kills a wolf, becomes the wolf.
Wren has been hiding her healing powers to avoid detection and execution, but when she kills a wolf that's attacking her mother, she's got a whole new problem. The wolf's soul is now inside her and every night, she turns into a murdering beast intent on killing all humans.
How can she survive? How can she allow herself to stay near Liam, the man who's helping her reach her father? Can Liam help her reach her father and the cure?
Soul Catchers has a lot of original concepts including how the possession by wolf spirits work, not to mention their origin. There's some really cool world-building colored by Red Riding Hood and Native American folklore. Best of all, the novel wraps up a lot of major storylines, while leaving enough open that there can be a sequel; definitely not a cliffhanger. I would normally give this book four stars, but I felt there was enough original material and ideas to throw in an extra star.
I'm glad I nominated this book through the Amazon Kindle Scout program. It was a fast, fun read.
Book description
Whoever kills the wolf becomes the wolf…
Wren Lewis shouldn't be alive. Magic is illegal, making her mere existence a crime, and if the government ever discovers the truth about her powers, she'll be killed on the spot. Or worse. But when she uses her magic to kill a wolf that's attacking her mom, her abilities are exposed and the animal's evil spirit possesses her. Unable to control the beast inside her, she flees the city in search of a cure before the wolf spirit consumes her soul, turning her into a murderous monster permanently.

Copyright secured by Digiprove
Acknowledgements: All book cover artwork and all text g more...
All Rights Reserved