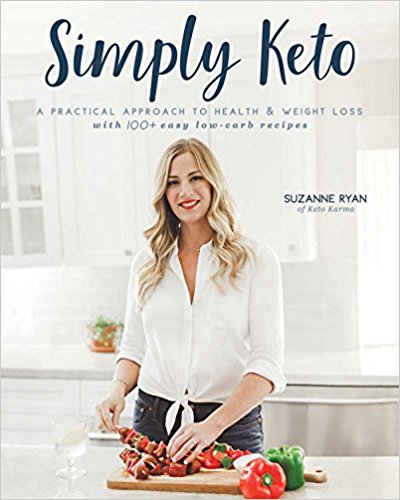 Simply Keto
by Suzanne Ryan
★★★★★
Great keto resource and cookbook
I purchased Simply Keto: A Practical Approach to Health & Weight Loss by Suzanne Ryan so my family and a friend could practice cooking healthy keto foods. While I haven't finished reading the science part (I read some of the beginning and then jumped into the food lists and cooking, as I've done keto before, but needed recipes ASAP – and I intend to backtrack and read the entire book), I have cooked several of the recipes, including: Broccoli, Bacon, and Cheese Egg Muffins, Cheese Crisps, Cheese Shell Tacos, Fried Tuna Patties, and Mick's Spicy Aioli, Parmesan-Crusted Salmon Bake with Asparagus. Next up are Quick and Easy Personal Pizza and Sweet and Spicy Fried Shrimp, which both look just as yummy as all the recipes we've tried so far.
So far the recipes have all been hits, except for the sauce for the salmon and asparagus, which we need to try again in case we goobered somewhere along the way. The most major hits with the family? Cheese crisps, cheese shell tacos, and Broccoli, Bacon, and Cheese Egg Muffins (major, major hit!) which are basically crustless mini quiches.
I do wish some of the directions were better. Even as an experienced cook, I struggled to figure out what some directions meant. For example, the salmon/asparagus recipe called for rectangular packets made of parchment paper and instructed them to be sealed so they looked like calzone. Calzone is made as a half-circle, so making it rectangular is confusing, while the folds are rolled and pinched, which kinda make sense, but hard to do with parchment. I was left wanting pictures of the steps and a better explanation.
One other caveat: There are a lot of recipes for sweets and a great dependence on sugar alcohols (Swerve, etc.), stevia, and other sugar replacements.  If one cuts down the sweets and/or sugar content, you develop less of a sweet tooth and less sweet foods are more satisfying. To depend on sugar replacements such as Swerve that will spike insulin levels, cause more hunger, and lead to cravings for more sweets over the course of the day and overall, well, seems a little counter-productive. In addition, sugar alcohols can lead to intestinal upsets.
I bought this book in three formats: Kindle, paperback, and spiral-bound paperback. Overall, while I like the Kindle version for being able to search through the cookbook for specific ingredients, I really like the spiral-bound paperback. While both paperbacks are of good quality paper and have a heavy cover, the spiral-bound version lays flat so you can read the recipe easily and it also allows you to photocopy the recipe if you want to be able to write on it to keep track of your progress with ingredients, etc. If I were to buy this book again, I would definitely buy the spiral-bound version, despite the difference in price.
I highly recommend this book/cookbook for anyone looking for great basic keto recipes that can become household staples and for basic info on keto, keto-safe foods, and getting started on the keto diet, not to mention the author's inspirational story and incredible before and after pictures. Overall, I think this is an excellent cookbook and I expect to enjoy the rest of the recipes that we cook. And we do intend to cook our way through the rest of the cookbook.
Book description
The ketogenic diet, a low-carb, high-fat way of eating, is remarkably effective at transforming people's lives, helping them shed pounds and find relief from common health conditions. No one knows this better than Suzanne Ryan. In her quest to overcome her lifelong struggle with her weight, she stumbled upon the ketogenic diet and decided to give it a shot. In just one year, she lost more than 100 pounds and reclaimed control over her health and well-being. Suzanne has shared every detail of her transformation, from the very first days of starting keto to her most recent successes, on her popular blog, Keto Karma, as well as on her YouTube channel and Instagram page. Her first book, Simply Keto, isn't just a cookbook; it's a portal into Suzanne's life and dieting success-how she accomplished the incredible feat of losing almost 40 percent of her total body weight and developed a healthier and more balanced relationship with food. In this book, she shares everything you need to know to get started and find your own success.

Copyright secured by Digiprove
Acknowledgements: All book cover artwork and all text g more...
All Rights Reserved