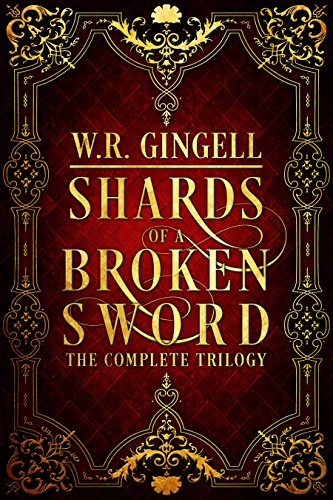 Shards of a Broken Sword Trilogy
by W.R. Gingell
★★★★★
You can't go wrong with Gringell's fairy tales
If you like fairy tales or re-imaginings of fairy tales, you will enjoy W.R. Gingell's stories. And the Shards of a Broken Sword trilogy shows that Gingell's writing keeps improving with each new book. Her fairy tales are new twists on old themes and yet original. My only complaint is that her works are sometimes very short, so it's nice that these three stories are in one book here. (I also own the first two novellas separately.) And it makes me appreciate her longer books even more.
This trilogy omnibus (Shards of a Broken Sword: The Complete Trilogy) has three very enjoyable stories about different characters and circumstances tied to together by the shards of a sword. There are also a couple of short stories at the end that add to some of characters' back stories.The tales are complex, original, and keep you guessing. I love all three stories, and can't really pick one over the other, although as I read each one, I keep thinking it's my favorite. Until I read the next story.
One of Gringell's strengths is her character development. Her heroines are spunky and resourceful without being snarky. So many authors think independent and strong equals mouthy and obnoxious. Not so with Gringell. Her heroes are just as complex and likeable as her heroines, and some of her secondary characters steal the stage now and then because she fills out their characters also. Gringell's world building is also complex and interesting.
Well, you can't go wrong with any of Gringell's works, although if you have to choose, start with her newer works to get her at her most nuanced writing.
Book description
In TWELVE DAYS OF FAERY, King Markon of Montalier is at the end of his tether. His son, Prince Parrin, is afflicted by a nasty curse that brutally attacks any woman with whom he so much as flirts.
Markon, accompanied by a mysterious enchantress, must enter Faery to break the curse. He's collecting clues, but she seems to be collecting shards of an ancient, broken sword…
Rafiq has FIRE IN THE BLOOD. When the crafty Prince Akish attempts to rescue Princess Kayami Koto from a dragon-guarded and enchanted keep, it seems only sensible to bring his own dragon. Bound to Akish by an old, spiteful piece of magic held in a single shard of an ancient sword, Rafiq has no choice but to help.
There to assist is serving maid Kako– mistress of many secrets, and perhaps the only person who can free Rafiq from his bondage.
Llassar is feeling THE FIRST CHILL OF AUTUMN. Fae began to filter slowly into the land shortly after the birth of the crown princess, Dion ferch Alawn, and now there isn't a town in Llassar that isn't under their control.
To unite her country and save her world, Dion ferch Alawn must gather all the shards of the Broken Sword that will seal away Faery once and for all.
BONUS CONTENT: A short story featuring Carmine and Fancy, never before published!

Copyright secured by Digiprove
Acknowledgements: All book cover artwork and all text g more...
All Rights Reserved