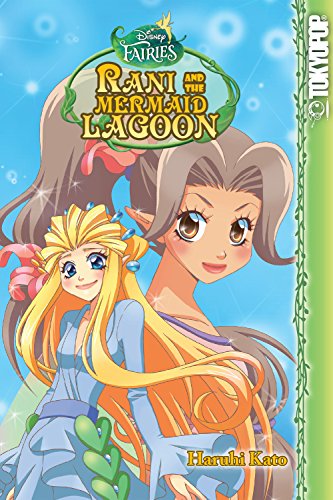 Rani and the Mermaid Lagoon
Disney Manga by Haruhi Kato
★★★★★
What happens when you're a fairy who's different?
Rani is a fairy with a disability; unlike all the others, she has no wings. She sacrificed them to save Mother Dove. But when Rani tries to join in with fairy life in Pixie Hollow, she finds her awkwardness and attempts to do her old role in old activities, her failures are mocked by some of the fairies. Rani is upset, even though her friends try to support her, and she runs off to find a place where she fits in. This is a really sweet story that I think will open conversations about tolerance and also maybe to help those children who aren't understanding of disabilities to stop and think. An enjoyable story, whether or not you're trying to teach acceptance and inclusion of those with disabilities.
In addition to Rani and the Mermaid Lagoon, there is a Small 'n Cute Fairy Diary. There are also some ads for other Disney manga titles.
I tried read this on my Fire tablet and my iPad, and I think the quality is better on the iPad, I'm sure it's probably just the resolution of the screen. It was very readable on both.
Remember to follow the panels and conversation bubbles from right to left. There's a handy reference at the front (actually the back) of the book that shows you the flow in numbers, so you won't get lost. (Trying to read left to right will get your brain in a knot and make for some really weird conversations!)
Highly recommended for anyone who enjoys the Disney Fairy animated movies, loves manga, or enjoys a sweet children's book.
Book description
Rani cut off her wings to save Pixie Hollow and her fairy friends, but a fairy who can't fly is unheard of. After a disastrous accident at the Fairy Dance, she runs away to try and find her own place to belong. Maybe the mermaid lagoon could be her new home… Join Rani and the rest of the Disney fairies — and mermaids! — on this magical adventure. Add another Disney Fairies manga to your Disney Manga Collection!

Copyright secured by Digiprove
Acknowledgements: All book cover artwork and all text g more...
All Rights Reserved