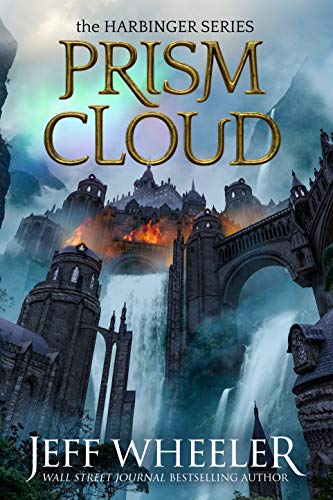 Prism Cloud
by Jeff Wheeler
★★★★☆
The beginning of the end
It's hard to judge the penultimate book in a series, but what I feel the strongest about with Prism Cloud is that it's darker, even more complex, and certain aspects and situations feel yet more hopeless with the evil overwhelming so much and things going awry. The Harbinger series is such a wonderfully rich tapestry with deftly woven characters and a nuanced world that will have you believing every sky ship, every gate, every mental touch of a Leering. You will leave this book satisfied and yet yearning to see the tapestry as a whole with each thread tucked neatly away and the final picture revealed in its glory.
Jeff Wheeler is building momentum and us readers are discovering more answers (and more questions), but the climax to the tale is in the upcoming final book, leaving Prism Cloud a bit of a cliffhanger; all the pieces are in play, all the stage is set, and we await the final curtain. Patience, patience… I must have patience…
If you've been reading the Harbinger series, then you're set to sink your teeth into Prism Cloud. (If you haven't been reading the series, go back and start with Storm Glass, you'll be glad that you did!) In a way, Prism Cloud is the ultimate bridge book.
I received this book as a digital Advanced Reader Copy (ARC) from the publisher through NetGalley. My opinions are my own.
Book description
When the emperor is assassinated, Sera Fitzempress is the noble most eligible to inherit the empire. Her upcoming marriage to the prince would cement her position. And as a champion for peace, Sera is the only promise of hope for staving off war between the worlds of Kingfountain and Muirwood. But standing between her and her enemies is just one devastating secret.
Sera's best friend, Cettie, a girl born of a lower class, has made a shattering discovery: her entire existence has been a lie. Now Cettie must give up the only life she's known and fought for and leave behind the man she loves to stop Sera's wedding. For this discovery could bring the whole of Kingfountain to ruin.
As Cettie struggles to determine her true loyalties and loves, her allies fall to wicked plots, and she becomes increasingly alone on her journey to a destiny she never wanted—one that could ignite an unstoppable war.

Copyright secured by Digiprove
Acknowledgements: All book cover artwork and all text g more...
All Rights Reserved