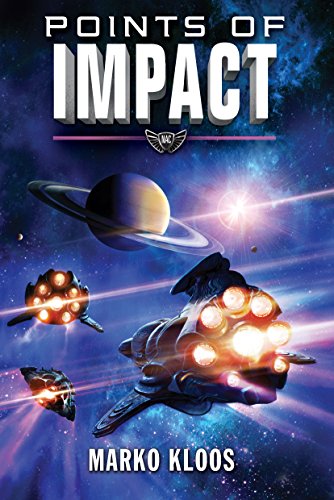 Points of Impact
by Marko Kloos
★★★★★
If the human race was to come to an end, where would you choose to be?
Andrew and Halley choose to be on the furthest spearhead, defending humanity alongside old comrades and new allies. If they're going out, they're going out together, spitting in their enemy's face as they crash and burn.
What a brilliant read! Welcome back to the future in a immersive, brain-rushing ride that was well worth the wait! Marko Kloos nails Points of Impact on so many levels as he throws us into Andrew and Halley's lives once again in a story that speaks to all of us.  (If you haven't read the Frontlines series yet, you should put this book down and start with Terms of Enlistment (Frontlines Book 1).
Points of Impact is so immersive, we readers feel as if we are the ones waiting for battle, testing our battle exoskeleton, worrying about our spouse, rejoicing to meet old comrades-in-arms, grieving over lost friends, trying to find ourselves in the pain of PTSD and burnout. And we are the ones forging into an epic battle once again against overwhelming odds.
This time, humanity has better ships, better weapons, better armor. They can only hope it is enough against an enigmatic species that has always seriously outgunned and outnumbered the human race. Because the timetable was just moved up, precious time stolen, by the implacable enemy.
With a deft touch, Kloos throws in details that flesh out the immersive world-building without overwhelming the story. We see what he wants us to see, feel what he wants us to feel. And, boy, is it a ride! Eagerly awaiting the next book.
I recently discovered the Frontline series through Kindle Unlimited. I had to buy it; I need to own this series forever so I may read and re-read it at will! So glad I discovered this series and Marko Kloos.
Heads-up for crude language, but it totally fits the story and is not overdone considering the people are soldiers. Absolutely well-done and not disruptive. Just putting that out there for those who care. I thought it made the story more realistic without being overdone.
Book description
Humankind may have won the battle, but a new threat looms larger than ever before…
Earth's armed forces have stopped the Lanky advance and chased their ships out of the solar system, but for CDC officer Andrew Grayson, the war feels anything but won. On Mars, the grinding duty of flushing out the twenty-meter-tall alien invaders from their burrows underground is wearing down troops and equipment at an alarming rate. And for the remaining extrasolar colonies, the threat of a Lanky attack is ever present.
Earth's game changer? New advanced ships and weapons, designed to hunt and kill Lankies and place humanity's militaries on equal footing with their formidable foes. Andrew and his wife, Halley, both now burdened with command responsibilities and in charge of more lives than just their own, are once again in humanity's vanguard as they prepare for this new phase in the war. But the Lankies have their own agenda…and in war, the enemy doesn't usually wait until you are prepared. As Andrew is once again plunged into the chaos and violence of war with an unyielding species, he is forced to confront the toll this endless conflict is taking on them all, and the high price of survival…at any cost.

Copyright secured by Digiprove
Acknowledgements: All book cover artwork and all text g more...
All Rights Reserved