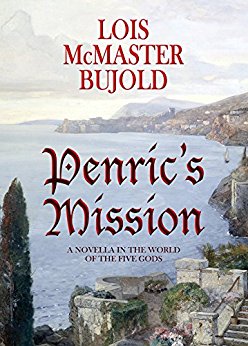 Penric's Mission
by Lois McMaster Bujold
★★★★★
Where there's a demon, there's a way.
The Penric novellas are must-read if you love Bujold or fantasy. While they're short and rather episodic novellas, the books are deep, mystical, and thoroughly enjoyable and each contributes to the whole story and mythology. In Penric's Mission, the fourth book in the series, Penric has been enlisted to spy out and recruit a supposedly politically ambiguous general to recruit. The mission is compromised and Penric and Desdemona must do all they can to rescue the mission, the general, and his sister.
What results are breathless escapes, wonderful Desdemona-Penric conversations and magic, and perhaps a budding relationship between Penric and General Arisaydia's sister, Nikys. As usual the writing is wonderful, the storyline engaging, and the characterizations deep and satisfying. Wonderfully complex and enjoyable all around.
Penric's Mission is perhaps my favorite Penric novella so far, and yet I feel that way toward each when I read it. Highly recommended.
Book description
*Updated Chronology! PENRIC'S MISSION is now Book 4 in the Penric & Desdemona series.*
In his thirtieth year, Penric fell in love with light…
Learned Penric, a sorcerer and divine of the Bastard's Order, travels across the sea to sunlit Cedonia on his first covert diplomatic mission, to attempt to secure the services of a disaffected Cedonian general for the Duke of Adria. However, nothing is as it seems: Penric is betrayed and thrown into a dungeon, and worse follows for the general and his kin. Penric's narrow escapes and adventures — including his interest in a young widow — are told with Bujold's remarkable energy, wit and humor. Once again, Bujold has created unforgettable characters and a wondrous, often dangerous world of intrigue and sorcery. Fourth novella in the Penric and Desdemona series.
Publishers Weekly:
"A novella filled with a satisfying blend of strong characters and wry humor." (re Penric's Demon)

Copyright secured by Digiprove
Acknowledgements: All book cover artwork and all text g more...
All Rights Reserved