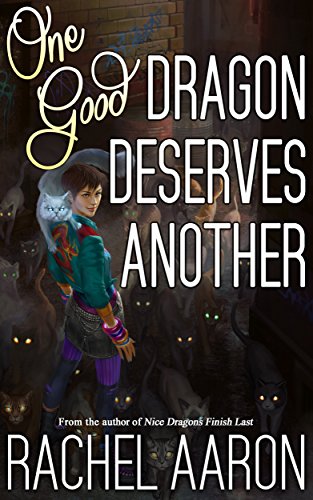 One Good Dragon Deserves Another
by Rachel Aaron
★★★★★
Best series ever with our favorite dragons: brilliant, layered, engrossing
Rachel Aaron quickly became one of my favorite authors. Her writing is witty, deep, and immersive. I love that she starts off with an "easy" premise, but the further the story goes, the more mythology and layers appear. (Her Eli Monpress novels were also fantastic.)
One Good Dragon Deserves Another was an awesome sequel to Nice Dragons Finish Last. More humor, more Julius (and Marci and Justin… AND more BOB!!!) Lots of plot twists and turns and hints of more to come.
If you liked Nice Dragons Finish Last, you'll love One Good Dragon Deserves Another!
Book description
After barely escaping the machinations of his terrifying mother, two all-knowing seers, and countless bloodthirsty siblings, the last thing Julius wants to see is another dragon. Unfortunately for him, the only thing more dangerous than being a useless Heartstriker is being a useful one. Now that he's got an in with the Three Sisters, Julius has become a key pawn in Bethesda the Heartstriker's gamble to put her clan on top.
Refusal to play along with his mother's plans means death, but there's more going on than even Bethesda knows. Heartstriker futures are disappearing, and Algonquin's dragon hunter is closing in. Now, with his most powerful family members dropping like flies, it's up to Julius to save the family that never respected him and prove once and for all that the world's worst dragon is the very best one to have on your side.

Copyright secured by Digiprove
Acknowledgements: All book cover artwork and all text g more...
All Rights Reserved