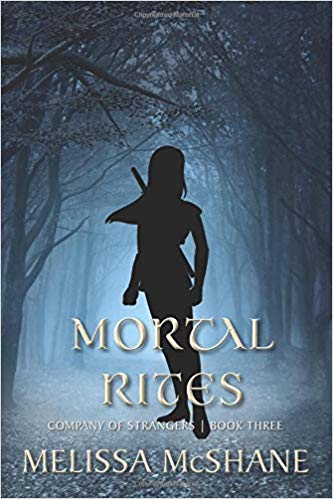 Mortal Rites
by Melissa McShane
★★★★★
Deeper and darker, the game is on
Sienne, Alaric, and the gang are gaining ground in their quest to free Alaric's people. But as they delve into the underbelly of the wizarding world into necromancy and its practitioners, they may find they've bitten off more than they can chew. Because not all necromancers are as nice as they appear and some are more evil than they seem. Can Sienne and her cohorts outwit evil, combat the undead, and reveal the machinations of more evil necromancers than a person should have to deal with in a lifetime? Throw in some deliberately oblivious spouses, rule-following fiancés, angry ghosts, and an undead horde or two and the game is on.
I really enjoyed Mortal Rites, the third book in the Company of Strangers series. It was great to see the development of Alaric and Sienne's relationship, along with the backstory and love-lives of other team members being delved into. Overall, a lot of advancement of characters, storylines, and the world-building. Just an enjoyable read altogether.
If you haven't read the first two books, you'll want to go back and read them first, as this book definitely builds upon what was previously written. I can't wait until the next book, and I hope Sienne will finally get some more transportations spells. This traveling is making me footsore! Highly recommended for lovers of fantasy and great storytelling.
Note: I absolutely loved the dedication. Made me laugh.
I received this book as a digital Advanced Reader Copy (ARC) from the author. My opinions are my own.
Book description
THE UNDEAD RISE
After finding two items they need to save Alaric's peoplefrom the wizard who enslaves them, Sienne and her companions feel confidentthat success is just around the corner. But the quest takes a dark turn whenthey learn the next step leads them into the forbidden world of necromancy.
Hired to locate a missing man whose studies in the dark artcould give them what they need, the companions soon discover how deep hissecrets run—and encounter a creature that may be impossible for them to defeat.
A thrilling tale of life, death, and the shadow worldbetween.

Copyright secured by Digiprove
Acknowledgements: All book cover artwork and all text g more...
All Rights Reserved