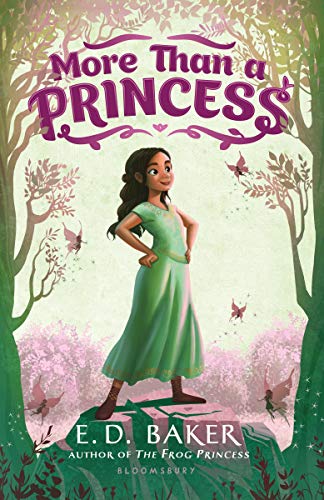 More than a Princess
by E.D. Baker
★★★★★
What can one girl do against an invasion?
In More than a Princess by E. D. Baker, Aislin is a half-fairy, half-pedrasi princess who finds herself confronted with a human king and his soldiers on what should have been a quiet outing picking mushrooms in the peaceful meadows and woods of her parents' kingdom. But somehow humans have gotten past the Magic Gate and entered their sheltered kingdom… humans who kill, humans who hate pedrasi, fairies, and all the other magical people who dwell in Eliasind. Aislin uses all her skill to delay the king, who seems dishonest and unkind, on his way to her family's castle. But that's all she can do, is delay them and hope that is enough to thwart the intruding king's plans. Despite all she can do, Aislan and her best friends, Poppy, a fairy, and Twinket, a living magical doll, must journey into the realm of the humans and what they discover is nothing they could have forseen.
This is a fun read about a strong female character, Aislin, who never hesitates to jump into trouble to save friends, family, or her kingdom. She's got some tremendous power and so far hasn't really shown any weaknesses. I think girls especially will enjoy reading about a character that has no trouble getting in and out of trouble, has the courage to back her convictions, and who values her best friends. While I wish Aislin had a weakness or two to make things more real, I have a suspicion some of that is coming up in the next book. While I've read a lot of E. D. Baker's books, it's been a while, plus they're for a younger audience, so I'm sure that plays into the complexity of the characters.
The character-building is fun and there are so many characters to love. The world-building is immersive although not as deep as it would be for a book written for older children. I'm waiting to see where some of the storylines go in the next book; there are many exciting possibilities!
Highly recommended for those who love fantasy, strong princesses, and fun books to read with (or without) children.
I received this book as an Advanced Reader Copy (ARC) from the publisher through NetGalley. My opinions are my own.
Book description
Aislin of Eliasind is more than just a princess — she's half-fairy and half-pedrasi, with magical gifts from each side of her heritage!
One day, as Aislin is venturing through the woods, she is alarmed to hear a band of humans coming through. How did they get past the guarded magical passageway that leads to her hidden kingdom? Mistaken for a human herself, Aislin is captured, and soon realizes she's in even bigger trouble–she's being used as a pawn to help the king of this nearby kingdom, Morrain, find a secret passageway to the warring land of Scarmander, so he can capture his enemies by surprise. Aislin must find a way to break free, while also minding the beautiful human princess and ladies-in-waiting she now shares a castle with, who are all too ready to point out her differences. Thankfully, Aislin's inner strength goes beyond her magical qualities. And with a few loyal friends by her side, she's ready to stand up for herself and her kingdom once and for all.
A classic and original fairy-tale that celebrates beauty and goodness in all its shapes and sizes, More than a Princess will resonate with readers who love magic, suspense, girl power, and adventure.

Copyright secured by Digiprove
Acknowledgements: All book cover artwork and all text g more...
All Rights Reserved