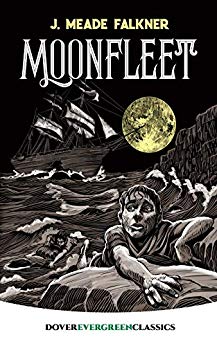 Moonfleet
by J. Meade Falkner
★★★★★
Classic coming of age story
Moonfleet is a classic coming of age story that spans John Trenchard's life from childhood through adulthood. John is being raised by a cold and critical aunt, while he loves to wander at night dreaming of treasure and contraband runners. When he sneaks out one night to explore a cave-in and passageway under the local graveyard that he has discovered, he doesn't know that it will change his life forever. Not only does his aunt kick him out of her house for being out at night, but he's taken in by Elzevir Block, a kind innkeeper who mourns his murdered boy. John find himself loved as a son by this warm-hearted man, but also pulled into a world rife with smuggling and its consequences. When a hateful magistrate schemes to force Elzevir out of his inn, it begins a cascade of events that has Elzevir and John running for their lives. Little does John know that even as they flee, he holds the key to Blackbeard's treasure and wealth beyond his imagining. Circumstances will align for him to solve the code and discover where Blackbeard hid a fabulous diamond. Will the evil of the treasure follow them and ruin all their hopes?
Moonfleet is a tale that will capture the imagination of children who enjoy stories such as Treasure Island, Robinson Crusoe, and Swiss Family Robinson. It's a harsh tale with a lot of darkness, but a lot of life lessons, and in the end, there is hope for a good life. It's written in more formal English, given that it is an older story. That said, the vocabulary is not horrendously difficult, but some words will have young readers checking their dictionary. Here is a short passage that demonstrates the style of writing at its more convoluted (it's not always as this complex):
"Oh, fool me not!" I cried out, chafing at his excuses. "I am not wandering now. 'Twas Elzevir that saved me in the surf last night. 'Twas he that landed with me."
There was a look of sad amaze that came on Ratsey's face when I said that; a look that woke in me an awful surmise. "What!" cried he. "Was that Master Elzevir that dragged thee through the surf?"
A classic tale of pirates, greed, and consequences in a harsher time. Recommended for those that love historical novels, tales of pirate treasure, and coming of age stories.
I received this book as a digital Advanced Reader Copy (ARC) from the publisher through NetGalley. My opinions are my own.
Book description
This rollicking tale of smugglers, hidden treasure, and a wandering ghost casts the same kind of gripping spell as Treasure Island, Kidnapped, and other adventure classics. Set in an English village during the 1750s, it tells of an orphan boy who discovers a dangerous secret down in a church crypt, which results in a series of perilous encounters on land and sea.
In the mid-eighteenth century, an epidemic of smuggling sweeps across England's south coast. The law, enforced by Magistrate Maskew of Moonfleet Manor, is unforgiving. So when young John Trenchard accidentally uncovers illegal activity and gets involved with a smuggling ring, he's drawn into a life-or-death struggle with the magistrate. Their conflict leads John into an even deeper mystery that climaxes with the search for a pirate's loot and resolves with the help of loyal friendship and the warmth of romance.

Copyright secured by Digiprove
Acknowledgements: All book cover artwork and all text g more...
All Rights Reserved