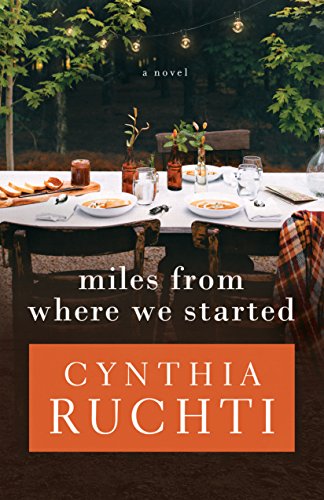 Miles from Where We Started
by Cynthia Ruchti
★★★★★
Just add humans and let the adventure begin!
Thoughtful, thought-provoking heart-touching story… Conner and Mallory are in for a rough ride. Their newlywed status has yet to expire and yet the honeymoon is already over. Conner loves Mallory enough to want to protect her from the debilitating illness he might have inherited; Mallory is stubborn enough to want to see it through. When Conner's company is on the line, there's a contract that affects not only his company, but Mallory's beloved literacy program for at-risk youth, they both saddle up for the trip of a lifetime.
RoadRave produces micro-campers and other travel equipment, and they want to send Conner and Mallory on a back-road road trip complete with cameras, soundbites, and an internet media blitz. Add in one pre-teen boy from Conner's partner's foster care, and a whole lot of interesting personalities along the way, and the micro becomes even smaller, and yet enlarging.
From texts to videos to tiny homes to mysterious boxes, all the aspects of a publicly documented trip combine to shine a spotlight on Conner and Mallory's broken hearts. While the public cheers them on and they keep their game faces up for the most part, they have plenty of time to reflect on where their paths diverged.
Can they learn from all the characters they meet and the preteen character they've dragged along? Will all the forced closeness bring THEM closer or drive the final wedge in their separation?
Miles from Where We Started abounds with hope, acceptance, and love. The road isn't easy, but it's worth the journey. Highly recommended for those who love Christian romance, tales of redemption, and scenic byways with regional characters.
I received this book as a digital Advanced Reader Copy (ARC) from the publisher through NetGalley. My opinions are my own.
Book description
These no-longer-newlyweds want out of this road trip—and their marriage. Too bad they can't find the off ramp.
Weeks away from their one-year wedding anniversary, Mallory and Connor Duncan can't even agree on how to end their marriage. But when a last-minute crisis lands them on a three-thousand-mile road trip together, Mallory wonders if their story may not be over after all.
The trip begins to unravel before the key is even in the ignition. When an at-risk, trouble-seeking eleven-year-old is unexpectedly thrown into their travel plans, close quarters get even tighter. Soon, the couple believes this whole experience will spell disaster.
Their first year of marriage hasn't been the arm-in-arm togetherness Mallory and Connor expected. But is it possible they will find a new beginning at the end of the road?

Copyright secured by Digiprove
Acknowledgements: All book cover artwork and all text g more...
All Rights Reserved