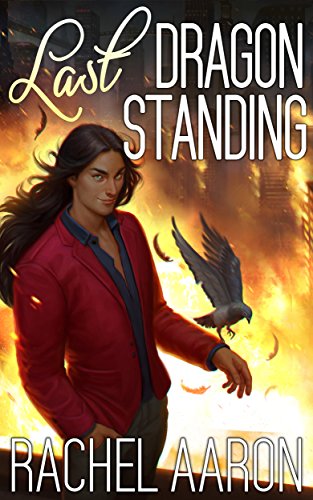 Last Dragon Standing
by Rachel Aaron
★★★★★
Do nice dragons always finish last? Will Julius be the last dragon standing?
Wow, what a brilliant ride! Last Dragon Standing starts out showing us why Bob has been plotting for all these centuries, and it shows us just how far his genius for plotting can reach. There is evil and annihilation in the immediate future if Julius can't stop the Nameless End. Is he ruthless enough to win against an evil so powerful and utterly determined to devour our entire plane of existence? Has Bob run out of escape plans? Can a pigeon make a difference?
Rachel Aaron doesn't give us pat answers or pretend that being nice is painless. Julius is our quintessential nice dragon fighting for our plane's survival and trying his best to drag every other dragon – and while he's at it, the entire freaking world – kicking and screaming along with him into a future where everyone is, hopefully, still alive at the end.  Julius has never allowed the threat of annihilation to ruffle his feathers, and his niceness is relentlessly relentless as he faces down the tentacled Nameless End loosed on our world in Algonquin's desperation.
It's really hard to review the last book in a series. Folks who have read this far know what they're in for: fantastic mythology, witty banter, quirky characters, and twisty multi-layered plots. If anything, Last Dragon Standing has more humor and more darkness than the rest of the series combined. It's as if Ms. Aaron ramped up the saturation on her writing to Andy Warhol-like Technicolor. So many characters shine in this book! And their personal integrity and adherence to their own nuanced stories and moral codes define their actions despite – or perhaps because of – the destructive chaos around them.
All the story threads come together in a satisfying conclusion that isn't easy, isn't cliché, and definitely isn't painless. You'll finish this book wishing that you could turn around and read the entire series again for the very first time. Someone please bottle me some book-focused amnesia! Really – I'd pay good money for that!
Pros: Fantastic writing, plotting, and characters creating an incredibly enjoyable story that just flows. Think Fred Astaire making dancing look easy.
Cons: I used a lot of tissues at certain spots in the book. Plus this is the last in the series, which makes me sad, too.
More Pros:  Rachel Aaron is still alive and kicking, writing even more unique and twisty series. Awesome!!!
Conclusion: Fantastic conclusion to the series! If you haven't read the previous books; this isn't a standalone novel. You should start with Nice Dragons Finish Last – immediately, if not sooner! 😉
I received Last Dragon Standing as an Advanced Reader Copy (ARC). My opinions are my own.
Book description
Dear Reader,
There is no way to write a blurb for this final book without spoiling all of the others. Suffice it to say, mysteries resolve, dragons war, pigeons abound, and no one is safe as Bob's grand plan finally comes to fruition.
But the Great Seer of the Heartstrikers isn't the only one whose schemes are nearing completion. The Nameless End is coming, and even the machinations of the world's most brilliant dragon seer might not be enough to stop it. As everything comes crashing down, it's up to Julius to prove what he's always known: that seers can be wrong, and Nice Dragons don't always finish last.

Copyright secured by Digiprove
Acknowledgements: All book cover artwork and all text g more...
All Rights Reserved