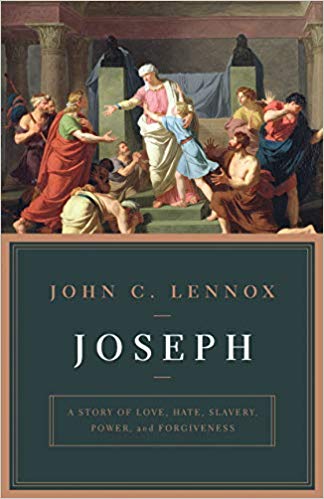 Joseph
by John C. Lennox
★★★★★

Fascinating, insightful teaching on Genesis and Joseph, easy to read
I've gotten burned by some "teaching" books lately, because they were written so dryly in academic jargon. This is NOT one of those books. Joseph: A Story of Love, Hate, Slavery, Power, and Forgiveness reads as if your favorite history teacher sat down and walked you through an explanation of Joseph's story and background. There's a lot of historical data given in a totally engaging manner, so it's not boring, it's simply fascinating.
If you are like me and the story of Joseph is one of your favorites (or even if it's not), you will enjoy this foray into the history and times that formed him and how his story relates to what came before and especially what came after.
Overall, an enjoyable, fascinating read that I ended up highlighting tons. Lots of good learning and enlightenment here.
Book description
The life of Joseph detailed in the book of Genesis is a story of love, hate, slavery, power, and forgiveness. Although written thousands of years ago, it has a timeless quality that still probes the depths of the human experience.
In this thoughtful and devotional book, scholar John Lennox emphasizes the major themes present in Joseph's story–such as suffering, temptation, forgiveness, faith, and God's sovereignty–and applies them to readers at a personal level. This detailed look at Joseph's life in its broader context will invite us into a deeper trust of God in the face of suffering and hardship.

Copyright secured by Digiprove
Acknowledgements: All book cover artwork and all text g more...
All Rights Reserved