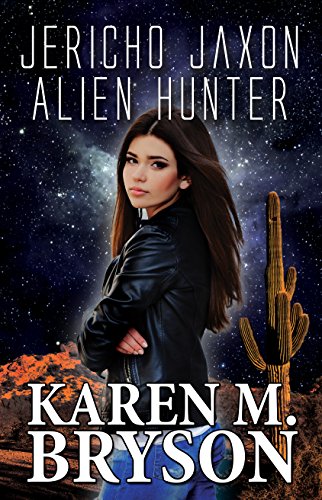 Jericho Jaxon: Alien Hunter
by Karen M. Bryson
★★★☆☆
Short fast read, cliffhanger
I didn't realize before I started this book, that it's more of an installment. While it's got some interesting concepts and decent character-building so far, it ends on a cliffhanger. Overall, this is an average YA/NA read, but worth it if you realize you need the other books to tie up story threads. So far there's no love triangle, so that's nice. This has the potential to be a decent series if it continues to build as it started and the story background and mythology is filled out more.
While I was disappointed in the length and the number of story threads left hanging, I'll read the next in this series and reserve final judgement until then on whether it's worth continuing.This is only an average book to me, in part due to the total cliffhanger.
I received this book through Kindle Scout. My opinions are my own.
Book description
The hunter becomes the hunted.
When Jericho Jaxon is offered an internship with The Optimal Mind Institute doing mind expansion research, she doesn't realize they're producing psychic spies for the military.
And they want her to be one.
Jericho is teamed with Falcon, a super soldier who is bigger and stronger than the average warrior. He's supposed to be without empathy or the need for human connection. Their mission is to track and kill aliens who live among us.
But when the training ends, their psychic bond doesn't.
When Falcon discovers that Jericho is an alien hybrid, he knows she'll end upon the military's kill list if they find out, and the hunter will become the hunted.

Copyright secured by Digiprove
Acknowledgements: All book cover artwork and all text g more...
All Rights Reserved