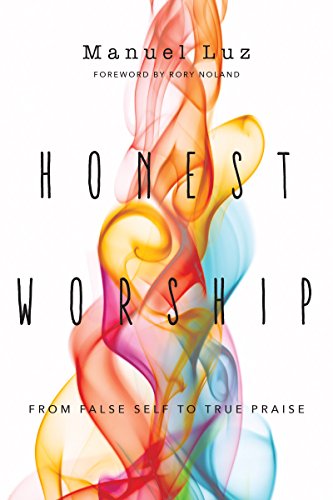 Honest Worship
by Manuel Luz
★★★★★
Life-changing read; let's all wear crash helmets!
Wow! This is about worship on SO many levels! Honest Worship is one of those books that you find yourself highlighting so many revelational thoughts and snippets of wisdom that you wonder if you should just stop and highlight the whole book.  (I just looked back and I have 136 highlights.) So many things to ponder long after I put the book down! It's not that we set out to limit our worship or worship with less than our whole self, but our whole culture has changed, and with it, our attitude toward the God, church, and worship. For many, church is self-centered consuming and experiencing, but not contributing or having a true communion with God. But even those of us who feel we have conquered our selfishness and serve others can deceive ourselves about our strengths and weaknesses.
Manuel Luz compares the attitude of many Christians toward worship to customers at a theme restaurant, who want to partake without any personal effort, mistaking experience and spectacle and the flair for an encounter with God or expecting God to respond to an event the staff has created.  "We can't manufacture holy transcendence, but we can manufacture spectacle, so we create spectacular services that titillate and tease, inspire and impress. And then we trust that God will show up."
Luz inspires us to worship God with our lives 24/7/365. If you want to be challenged, allow the truths in Honest Worship to help you examine your attitude toward worship and worshipping God. With God's Word and offering honest worship, we can enter the deep part of God's spiritual river and have full access to God's blessings pouring out from his temple.  I can't even express the soul-searching I did while reading this book and that I will continue to do. I intend to reread this book and try each worship practice exercise.
I'll leave you with a couple of my favorite quotes:
"We learn to feel God smiling on us as we create, labor, and produce for his glory. We become a hallelujah, an unceasing outpouring of worship, every day of the week."
"And we are also able to glorify God through the acts and arts and objects of our imaginations. If you've ever written a song to God, painted a painting to glorify God, taught a children's Bible lesson, designed or built a church building, or done anything inventive or creative for the sake of the kingdom, you've used your imagination to glorify God."
"When we gather on Sunday morning, we're ushered into the presence and power of God. And we have a choice. We can go the first thousand cubits and wade into worship up to our ankles. Or we can choose to go another thousand cubits and experience worship up to our knees. Or we can take those extra steps to where we're experiencing worship up to our waists. Or we can go the full mile in our worship experience, traveling the entire four thousand cubits into the scary, untamed water, the torrent too deep and too fast to cross."
One last, where Luz quotes Annie Dillard, "Does anyone have the foggiest idea what sort of power we so blithely invoke? […]  It is madness to wear ladies' straw hats and velvet hats to church; we should all be wearing crash helmets. Ushers should issue life preservers and signal flares; they should lash us to our pews."
Highly recommended as a life-changing read!
I received this book as an Advanced Reader Copy (ARC) from the publisher through NetGalley. My opinions are my own.
Book description
When asked by his son why some churches have smoke machines, worship pastor Manuel Luz found himself responding, "Well, technically, you need smoke machines to see the lasers." But when you take down the smoke screen, what do you have left? Where do we encounter the Holy in the midst of all this? Where can we worship with our full selves―heart, soul, mind, and body―in Spirit and truth? Drawing from his own experience leading worship in a large congregation and feeling the pull of performance, Manuel Luz guides us on a journey through worship that takes us far beyond style and deep into our own souls. He calls us back to an honest worship that moves past facades and pulls us inward toward the true self that God is forming within each of us. Each chapter ends with a spiritual practice designed to help us set aside pretense and enter into the very presence of God.

Copyright secured by Digiprove
Acknowledgements: All book cover artwork and all text g more...
All Rights Reserved