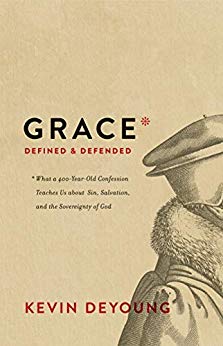 Grace Defined and Defended
by Kevin DeYoung
★☆☆☆☆
Dry, boring, academic treatise of limited value to non-Calvinists
I picked this book because I saw that it was a book about grace and described as "warmly pastoral and broadly accessible." Rather than being warm and broadly accessible, this is a dry, academic dissertation with so much historical background and such esoteric academic jargon that I had to stop to look up words now and then, despite the fact that I took several Bible courses in college. I admit that I am not a Calvinist per se, and didn't realize this was actually a targeted book on a narrow topic: differing views of grace specific to Calvinism, but more importantly the tenets set forth in the Canons of Dort. Therefore, this book is for hardcore Calvinists who want minutiae in a deeply data-driven philosophical tome about the Canons of Dort and nothing else.
This is not a book for the faint of heart or for anyone truly wanting a warm, pastoral look at grace. For that, I recommend Philip Yancey's What's So Amazing About Grace?, Clark Whitten's Pure Grace: The Life Changing Power of Uncontaminated Grace… There are so many inspiring authors, including Max Lucado and others… so many accessible, inspiring books about God's grace by so many great teachers. Unfortunately, this is not one of them.
Book description
Christians love to celebrate grace, yet often talk about it in vague generalities. But such an important biblical concept ought to be clearly defined so it can be consistently defended. In this book, best-selling author Kevin DeYoung points modern readers back to an old document originally written to do just that. Warmly pastoral and broadly accessible, this book introduces readers to the Canons of Dort, a 17th-century work summarizing the central doctrines of the Christian faith. Widely regarded as a key pillar of the Reformed tradition, the Canons of Dort stand as a faithful witness to God's grace—offering a depth of understanding that the church still needs today. In three concise sections—covering history, theology, and practical application—DeYoung explores what led to the canons and why they were needed, the five important doctrines that they explain, and Dort's place in the Reformed tradition today.

Copyright secured by Digiprove
Acknowledgements: All book cover artwork and all text g more...
All Rights Reserved