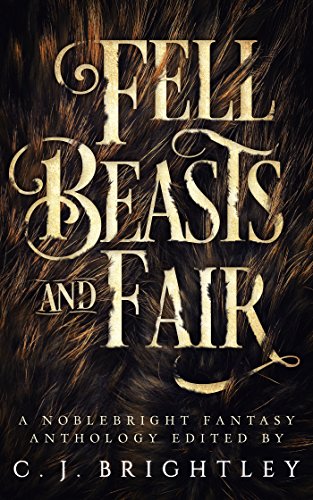 Fell Beasts and Fair
by C.J. Brightley
★★★★★
Wonderfully original tales, amazing world-building, strong writing
This is an absolutely brilliant collection of noblebright stories by the same editor who coordinated the Luminous: A Noblebright Fantasy Boxed Set and the Still Waters: A Noblebright Fantasy Anthology. This collection shocked me by being even better than the other two collections, which I loved. The greatest part of these collections for me is that not only do I enjoy the stories that are included, but I discover new authors.
The inhabitants of the stories in Fell Beasts and Fair range from leprechauns, dragons, werewolves, dryads, and more. The stories are all fresh and well-written. Most leave you thinking long after you've set the book down. It really is an awesome collection, the strongest one yet. And I didn't think that was possible. Very highly recommended.
I received this as an Advanced Reader Copy (ARC). My opinions are my own. Well, my current opinion is that I must research all the authors that I haven't read before and try their books!
Here's a list of the included stories with a very brief comment on each:
Cloudy with a Chance of Dropbears
W.R. Gingell
Gingell is one of my favorite authors and she doesn't disappoint here. A very original story about a leprechaun accountant thrown into the Behind where he'll be slaughtered by dropbears if he doesn't murder a human child, who turns out to be someone's "pet."
Don't Wake the Dragon
M.C. Dwyer
Ariel, a magic-wielder, convinces Lily to help him steal a dragon's hoard. Not your average Bilbo and Smaug tale!
Blanche, Bear-Wife
Alena Sullivan
Blanche is incredibly shy and doesn't feel comfortable around humans. She's only comfortable around the new guy because he happens to be a bear.
A Midsummer Night's Bedtime Story
Charles D. Shell
Eliza believes her cat was killed by a bad fairy. There's an invasion of fae-type folk who are determined to find a book that's hidden in her house. One of them isn't too bright, but he might be friendly.
Love and Room for Monsters
Amanda Nargi
An eye-opening and touching tale about bullying.
Inheritance of Nightmares
Beth Powers
Sian has been running for over a year from the monster that killed her father. Dagr is running for his life also. Can they join forces and destroy each other's nightmares?
Angus McCarn and the Tale of Two Tales
Rollin Jewett
Lovely story about telling tall tales and a leprechaun that would love to included and not abused for the chance of a wish.
Everything Mimsy
Samuel Marzioli
Nico is burned out and tired of life and his marriage. A series of events shows him the power of words over ourselves, those we hurt, and the ability to transform our lives by changing what we say.
Boirdeleau, WI (Population 3,017)
Aimee Ogden
Incredibly original tale about a librarian and the library and mummy that she serves and that serve the town. I'd love to see more background and this made into a book!
The Gallows Maiden
Francesca Forrest
Dark tale about death, crows, arrogance, and chances for redemption and love.
The Boy Who Didn't Believe in Halloween
Tom Howard
This was probably the weakest story in the collection for me. Kinda interesting, but I didn't feel any deeper connection. I probably need to reread it and see if I missed something.
Siphoning the Flames of Life
Kelly A. Harmon
Cute mix of steampunk and magic. A mechanic signs on for a job he's underqualified for – or is he?  I'd love to see this made into a book also.
Winter Horses and Other Unknowables
Leslie J. Anderson
Original tale with some rather unsettling deer and other mysteries.
Last Knight and the Burning Sands
Chloe Garner
Ruggiero is the second most powerful man in the world and is enlisted by his friend, Ferrau, to rid a hidden desert temple of demons. Ruggiero must face down his inner demons to destroy the outer demons and keep them from feeding on men as they have been for millennia. Another story that has me thinking I need to look all these authors up and try their books.
Necessary Threads
Lora Gray
Dark tale about abuse. Luckily someone might be watching. 'nuff said.
Pinecones
C.A. Barrett
Elida is a water wizard who loves to watch the dryad by the village's pool. The village seems uncaring when a satyr threatens the dryad, so she steps up to try to help stop the inevitable. There is redemption of sorts, because Elida will be stronger after this.
The Pooka's Day
Darrell J. Pursiful
Humans have walked through the door that Danny the Pooka forgot to close. Runaway slaves have only a temporary shelter until threatened by Danny's landlord. One is a powerful witch, but it isn't quite enough. Can they join forces with Danny to win everyone's freedom?
Road Trip
Aaron Damommio
Rather dark tale about werewolves used to destroy zombies by eating their brains in the battle against annihilation. Kane was a chef and he remembers that when he's human. Can he remember his love for haute cuisine when he's his wolf, a non-discriminating diner?
The Dove of Assisi
Troy Tang
The tale of Brother Franceso and the dragon Columbano." My favorite saint… with a dragon! Wonderfully medieval tale.
The Unanswered Riddle
Tom Jolly
Steampunk meets Egypt meets sphinx meets Dr. Hamilton. It's hard enough to answer a sphinx's riddles. What happens when the sphinx has mixed up which answers go with which riddles?  Love to see this as part of a book.
The Lady and the Unicorn
Terri Bruce
What happens when unicorns are really more like the Hell's Angels bent on maximum destruction? Who can stand in their way? Well, the wait staff at the local diner does double-duty! Not your normal stressful workday…
Like Sand in Your Teeth
April Steenburgh
A different selkie love tale where the answers aren't what you are expecting. Love takes many forms.
When Gracie's Father Fought
Anthony Eichenlaub
Gracie was adopted by her father and her real father wants her back. A story about  what it truly means to be someone's real father. Incredibly heartwarming.
Book description
In this exciting collection of noblebright fantasy, fresh new fantasy voices and award-winning authors explore grief and hope, sacrifice and heroism. Rediscover the best aspect of classic fantasy – the noblebright ideals that made heroes heroic, even when the world grew dark around them.
Thieves, dragons, nightmares, fairy warriors, pookas, enchanted bear-men, and other magical creatures will delight you in these unique tales of possibility, courage, and hope.
This anthology features stories from:
Leslie J. Anderson, C.A. Barrett, Terri Bruce, Aaron DaMommio, M.C. Dwyer, Anthony Eichenlaub, Francesca Forrest, Chloe Garner, W.R. Gingell, Lora Gray, Kelly A. Harmon, Tom Howard, Rollin Jewett, Tom Jolly, Samuel Marzioli, Amanda Nargi, Aimee Ogden, Beth Powers, Darrell J. Pursiful, Charles D. Shell, April Steenburgh, Alena Sullivan, and Troy Tang. Edited by Robert McCowen and C. J. Brightley.

Copyright secured by Digiprove
Acknowledgements: All book cover artwork and all text g more...
All Rights Reserved