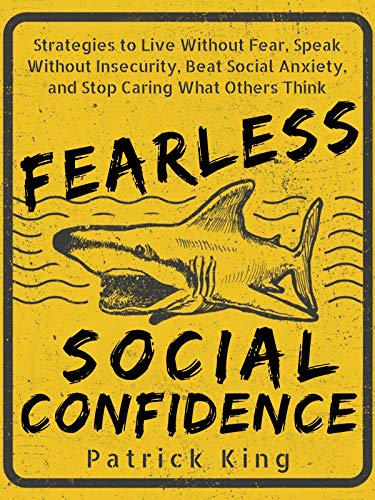 Fearless Social Confidence
by Patrick King
Fearless Social Confidence: Strategies to Live Without Insecurity, Speak Without Fear, Beat Social Anxiety, and Stop Caring What Others Think
★★★★★
Comprehensive and practical guide to overcoming social anxiety
What an incredibly detailed and helpful guide; anyone who has ever dealt with social anxiety should read this book! I have dealt with social anxiety in my life and currently work with my daughter with Asperger's/autism to overcome social anxiety in her own life. Of all the anxieties that affect us, social anxiety has the most damaging and limiting effect, dramatically impacting the quality of our lives, with perhaps only the exception of agoraphobia. In addition, the techniques Patrick King outlines in this book can easily be applied to other issues that cause anxiety.
King makes the subject real and solvable with relatable examples, concrete steps to follow, and example scenarios that illustrate before and after each strategy. This book is equivalent to multiple sessions with the most empathic and helpful therapist you could find. Following this advice in this book, I believe anyone could overcome social anxiety. King covers everything from helpful baby steps that you can take all the way to creating an alter ego that allows you to react to situations while distancing yourself from your anxiety. He covers ways in which we sabotage ourselves, have magical thinking, and how to overcome each of those common behaviors.
King encourages us to be on our own side, taking immediate and consistent action, realizing that people are not paying as much attention to us as we think, and that the small errors that we beat ourselves up about are usually not even noticed by others, and if they are, simply brushed aside as unimportant.
I highlighted SO much in this book as helpful and relevant and then got to the end to find King's Cheat Sheet, which is a wonderfully concise summary of the book, perfect for review. I intend to have my daughter read this book, because I recognize in the practical advice, steps that I have taken myself – whether accidentally or on purpose, and I've found even more advice I can use to improve even further. I know my daughter, being at the very start of her adult life and career will benefit even more than I do.
This is a helpful book, but best of all it's practical and includes logical steps that anyone can follow to conquer their social anxiety. It's great that he doesn't ask you to jump off the deep end, but to start off with small steps that bring quick success to build up confidence. Fearless Social Confidence also contains a link to a 7 step conversation cheat sheet that you get by signing up for his mailing list. It looks useful and practical, filling a gap since young people aren't given the opportunity to study conversational skills, so I went for that also as being helpful not only for us adults by for the new adults in my family.
This is the first book by Patrick King that I have read, and I will definitely be searching to see what other books he has available.
Book description
Change the inner voice that tells you "they'll think you're dumb", or "I'm not good enough". Stop letting fear run your life.
Fear of: judgment, rejection, laughter, awkward silence, feeling silly, saying the wrong thing, or making a bad impression. Is this always what you're fixated on?
Control your thoughts, be respected and heard, and stop caring what others think.
Fearless Social Confidence gives you more than victory over shyness – it gives you social invincibility and forever eliminates the feeling that you're just not good enough.
This is a unique book that takes a deeper look into social confidence: what causes it, what drains it, and most importantly – what you can do about it. It recognizes how confidence is built, and takes you step by step through the various mindset changes and action items. You'll walk away knowing exactly what to do to help yourself.
Learn to feel comfortable in any situation and ignore self-consciousness.
Patrick King is an internationally bestselling author and social skills coach. His writing draws of a variety of sources, from scientific research, academic experience, coaching, and real life experience. He is also a former social recluse who has gotten from point A to point B, and intimately understands the struggle you are facing.
Clinical psychologist and the US's leading social confidence authority Dr. Aziz Gazipura lends his thoughts in an insightful chapter on transformation.Speak and live freely without constant negative thoughts.
•How to banish negative self-talk and other toxic habits.
•The art of self-acceptance and correcting skewed thoughts.
•A detailed plan on exactly what to do and how to start your change.
•Core techniques used in therapy and psychology to overcome fear.
•Understand the relationship between confidence, action, and thoughts.
Take your shields down and allow people to see the real you.
The power of social confidence: it lets you see a world of possibility and potential versus a world of stressful anxiety and constant fear of failure. It has the ability to turn your life upside-down and change everything.
Social confidence gives you the power to make your world what you want. It allows you to seize the relationships that you've always wanted, and felt that were out of reach. It allows you to simply speak and do without having to think twice about what others think. Escape your comfort zone and meet who you want, always know what to say, and be respected and heard.

Copyright secured by Digiprove
Acknowledgements: All book cover artwork and all text g more...
All Rights Reserved