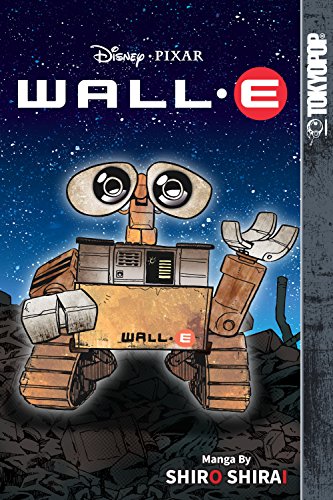 Wall-E
Disney Manga by Shiro Shirai
★★★★★
What's a robot to do? Is there more to life than shoveling garbage?
Disney Manga: Pixar – Wall-E tells the story of WALL-E, the last robot on Earth. He's been cleaning up the Earth for 700 years, he's got a cool collection of gizmos and gadgets, and he's got a cockroach for a friend. What else could a robot need? He soon discovers there's more to life when EVE arrives to assess the current condition of the Earth. Suddenly, the universe opens up with friendship, friends in far places, a clueless captain, and a villain. What WALL-E doesn't know is that he has found something that will change everything for everyone…
The innocence and insights that come across so well in WALL-E the movie are still here, wonderfully drawn as manga that capture the expressions and emotions of the robots (which is fantastic in itself) and the humans aboard the Axiom. The emphasis is on the robots, although more about the humans is included in the life on the Axiom section.
In addition to the story, there's a really neat info section introducing the main characters, a timeline of the world and the story, a trivia quiz, a section on life on the Axiom, and a preview of a Stitch manga. There are also sneak peeks at other Disney manga titles.
I tried read this on my Fire tablet and my iPad, and I think the quality is better on the iPad, I'm sure it's probably just the resolution of the screen. It was very readable on both.
Remember to follow the panels and conversation bubbles from right to left. There's a handy reference at the front (actually the back) of the book that shows you the flow in numbers, so you won't get lost. (Trying to read left to right will get your brain in a knot and make for some really weird conversations!)
Highly recommended for anyone who loved the movie, loves manga, or simply enjoys an intelligent children's book.
I received this book as an Advanced Reader Copy (ARC) from the publisher through NetGalley. My opinions are my own.
Book description
Based on the hit Disney Pixar movie Wall-E. Wall-E is a trash compactor robot — the last one of his kind! — and every day for hundreds of years he's faithfully cleaned and organized the millions of tons of trash left behind on Earth by humans. But his routine is flipped upside down when he finds a tiny green plant, the first new sign of life for centuries! When the sleek new robot EVE shows up to take the proof of life back to humanity, Wall-E falls head over wheels in love and eagerly follows her across the galaxy into a whole new adventure! Relive this epic space romance in beautiful manga form

Copyright secured by Digiprove
Acknowledgements: All book cover artwork and all text g more...
All Rights Reserved