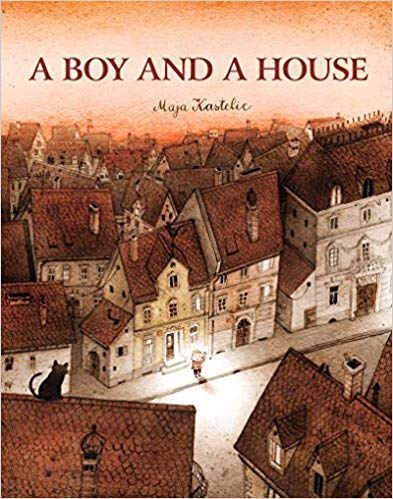 A Boy and a House
by Maja Kastelic
★★★★★
Wonderfully, whimsically illustrated, opening wide a window of stories
A Boy and a House is a deceptively simple book, for how complicated can a wordless story be? And yet, the beautifully drawn illustrations pull you in with splashes of color and light. This is the story of a boy wandering down a darkened Grimm Street, past lit and shadowed windows of vignettes and silhouettes: ladies speaking, a man eating, a boy peeking, a cat seeking, and more. Each window beckons you to tell a tale about its occupants. Each sign, placard, and graffiti a subtle hint of life in the neighborhood. As the boy approaches #34, he is drawn to the lit doorway where a cat watches, enticing him forward.
As the boy journeys through the house, hall by hall, room by room, each tableau is brimming with a host of details from paintings and drawings on the walls, discarded drawings and toys on the floor, empty chairs at a table of flowers, tea, and playing cards watched over by a doll, etc. Each drawing employs a careful application of color and light so your eyes are ever drawn forward, just as the boy's are, from dark to light, from grim and sad to sunlit adventure. Be careful to check out all the hidden details in the rooms and shadows. Each toy, drawing, and game on the floor, every painting on the wall evokes its own stories as the boy creates his. And we are left, entranced, with the best story of all.
This is simply an amazing book that lends itself to repeated readings and discoveries, just the sort of magical book to read on a quiet and rainy day, tucked snug under a blanket in a soft chair with a child trailing their fingers over each intricate detail as they discover new stories on each page.
I shared this book with my twenty-something daughter and she loved it as much as I did, saying that it reminded her of her favorite childhood picture books. This is a wonderful book full of surprises to be savored and shared. I went ahead and ordered a hardback copy to enjoy and share with little ones, since I can only imagine the book is even more beautiful in print. (Don't tell them that I'll be reading to them as an excuse to meander through it again myself.)
I just looked up the publisher and the artist out of curiosity to see if she had a release date for her next book and discovered that Maja Kastelic lives in Slovenia. A Boy and a House, her debut wordless book, has won several awards and been published in several different countries. I'm definitely adding her to my must-buy authors list.
Highly recommended for those with littles ones, those who love picture books, and those who admire well-crafted illustrations and hidden beauty.
I received this book as an Advanced Reader Copy (ARC) from the publisher through NetGalley. My opinions are my own.
Book description
When a little boy sees a cat slip into the open door of an apartment building, the temptation is too great: he follows the cat into the lobby.  Before continuing up the stairway, the boy picks up one of several discarded drawings that litter the floor.
Another open door awaits. Again, the boy follows the cat, this time into an apartment filled with books and toys. No one is there, but a table set for tea testifies to the fact that someone has been there recently. More drawings are scattered throughout, which the boy picks up one by one. With his pile of sketches in hand, he continues up several more staircases until he reaches an attic where a wonderful surprise awaits him.
The stunning illustrations in this wordless book invite the reader into a mysterious world that evokes the beauty of the past. Drawn by the light radiating from every open doorway, the boy lets his curiosity take him on an amazing journey of discovery, which young readers can elaborate with their own versions of the story.

Copyright secured by Digiprove
Acknowledgements: All book cover artwork and all text g more...
All Rights Reserved